Pakistan
Labbaik Ya Hussain (A.S.) Namaz-e-Janaza of 18 martyrs of Kahnpur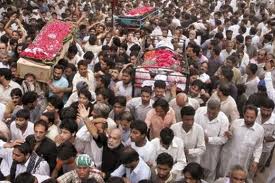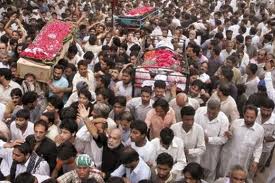 Chehlum procession held Amid the slogans of Labbaik Ya Hussain (A.S.), 18 martyrs of Chehlum-e-Imam Hussain's procession were laid to rest in Khanpur
(Rahim Yar Khan, Punjab) on Monday.
One injured who was admitted at Bahawalpur hospital also breathed his last on Monday evening raising the death toll to 19. Among them, eleven martyrs
belong to one family. Allama Sajid Naqvi, chief of Shia Ulema Council Pakistan led the namaz-e-janaza. More than 40,000 mourners participated in the funeral procession and namaz-e-janaza.
On the other hand, azadar and maumineen who had surrounded the police offices since Sunday evening dispersed peacefully.
A huge explosion had claimed lives of 19 azadar/maumineen on Sunday when they were bringing out juloos-e-aza on annual Chehlum of Imam Hussain (A.S.) and other martyrs of Karbala.
Shia Ulema Council has demanded that terrorists be punished forthwith and an operation be launched to thwart terrorism in all over the country.
Majlis-e-Wahdat-e-Muslimeen's provincial chapter's officials Allama Abdul Khaliq Asadi, Zulfiqar Asadi, Allama Iqtidar Naqvi, district Rahim Yar Khan chapter's official Allama Asghar Taqi, Bahawalpur chapter's Intizar Hussain and Zameer ul Hassan and thousands of
supporters of the MWM also participated in the funeral ceremony.
Wahdat Scouts adopted security measure for namaz-e-janaza and burial.
People were highly charged. They were demanding Shia leadership to mount pressure on the relevant authorities to launch an operation against terrorists. They were raising slogans such as Hussainiat Zinda Bad, Yazidiat Murdabad. They were demanding capital punishment to the
murderers.
{youtube}Gga-l_Bsip0{/youtube}