Middle East
Bahrain activists accuse US of assisting Manama regime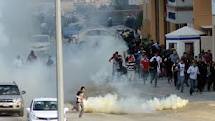 Bahraini activists have accused the United States of assisting the Manama regime in its violent crackdown on peaceful anti-government demonstrations,
The activists have published photos that apparently show the US troops training Bahraini regime forces in their crackdown on protests.
 
Bahrain hosts the US Fifth Fleet, and is among the Persian Gulf countries such as Kuwait, Oman, Qatar, Saudi Arabia and the United Arab Emirates (UAE) that receive military equipment from the United States.
On January 27, the US State Department issued a statement saying that Washington intended to go forward with the sale of approximately USD 1 million of military equipment to Bahrain.
The statement, however, maintained "a pause on most security assistance for Bahrain pending further progress on reform."
Dozens of people have been killed and hundreds more arrested or fired from their jobs since the beginning of the popular uprising in Bahrain in February 2011.
According to a Press TV opinion poll conducted from January 26 to February 7, the majority of the respondents blamed the Western media's silence over the crackdown on the Bahraini protesters on the presence of the US Fifth Fleet in Bahrain and Manama's alliance with the UK and Saudi Arabia.