Middle East
Bahrain: Ongoing trials against demonstrators and more than 30 have been sentenced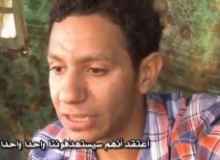 Bahrain Youth Society for Human Rights (BYSHR) is deeply concerned about sentencing of 4 demonstrators yesterday in National Safety court ( Military court).
On 25 May 2011 , 4 demonstrators sentenced :
1
– Rashid Adnan Alawi Al Sayad
was sentenced to one year imprisonment for taking part in illegal protests and disrupting public order.
2-Sayad Ahmed Mustafa Mohammed was sentenced to one year imprisonment for taking part in illegal protests and disrupting public order. ( Activist and Had interviews with the media – attached his photo with Al-Jazeera English).
3-Hassan Jaafar Ali Mhanna will be jailed for one year after being convicted of participating in illegal protests for criminal ends. He got another three-month prison sentence over driving a vehicle the registration plate of another one. However, the court found him not guilty of inciting the overthrow of the ruling system.
4-Hassan Isa Mohammed who was found guilty of holding pamphlets calling for the overthrow of the kingdom's ruling system and social fabric. one-year prison sentence.
Cases on-going:
1- fifteen people are charged with murdering a Pakistani national called Abdulla Malik Abdulla, attacking other people, taking part in illegal assemblies for criminal ends and disrupting public security, the court decided to adjourn the hearing to next Sunday, May 29 in order to enable the suspects to meet their relatives and appoint lawyers.
2-Ali Yussef Abdulwahab Al Taweel and Ali Atiya Mahdi Al Shamloul are accused of killing policeman Ahmed Al Mrissi while on duty in Sitra village.The case has been adjourned till 29 May, 2011.
3- Raed Jassim Mohammed, Qassim Hameed Khatim, Mohammed Hassan Ali, Mohammed Ibrahim Jassim and Hassan Mohammed Abd Al Khadhr Al Asfoor, as well as Salman Ahmed Mohammed who was tried in absentia, faced charges of attempting to murder a civil inspection group for terrorist ends, possessing unlicensed weapon and taking part in illegal protests at the GCC Roundabout "Pearl" in order to disrupt public security.The case has been adjourned till 30 May, 2011.
4-Ali Yussef Yaqoob is accused of attempting to security officer on March 15, 2011, the court heard three witnesses, including the victim, who asserted that the suspect used a GMC to run over the policeman who was, along with his colleagues, trying to disperse protestors who were throwing pebbles at security officers and blocking roads. The case has been adjourned till 30 May, 2011.
Bahrain military prosecutor sends civilian death penalty verdicts to highest court for review
Bahrain's state news agency says military prosecutors have asked the country's highest court to review two death penalty sentences linked to anti-government protests.
A special security court issued the sentences last month for four people convicted of killing two policemen during the unrest. Two of the sentences were reduced to life in prison and two death sentences were upheld.
Bahrain's general military prosecutor told the official Bahrain News Agency on Thursday that the capital punishment verdicts will be re-examined by the civilian Court of Cassation. No timeframe was given.
Rights groups have denounced the death sentences.