Middle East
Kuwaiti Wahabi MP's attacked Shia parlimenterian's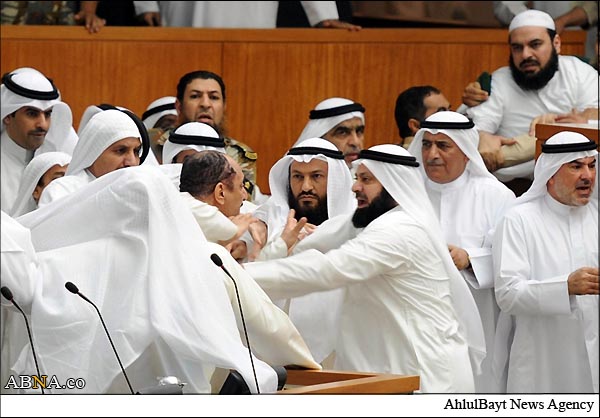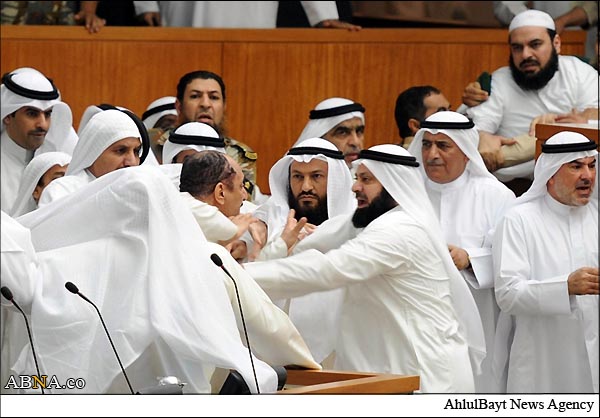 Shiite and Sunni-Wahabi Member of Parliments (MPs) punched each other in Kuwait's parliament Wednesday during a heated debate over inmates at Guantanamo Bay, amid rising sectarian tension in the Gulf state.
Parliament was holding a debate over two Kuwaiti detainees in the United States' prison camp in Cuba that Washington has refused to release, when Shiite MP Hussein al Kallaf provoked Sunni-Wahabi MPs by dismissing the prisoners as "al Qa'eeda" militants.
Chaos erupted when Jamaan al Harbash of the Sunni-Wahabi group told Shiite MP Mr Kallaf the debate was not called to discuss al Qa'eda but Guantanamo prisoners and then he alongwith his aides brutally attacked the Shiite MP's in the Kuwaiti parliment session.
Two Shiite and four Wahabi-Sunni politicians were involved in the fight prompting acting speaker Abdullah al Rumi to adjourn the session.
Later, parliament speaker Jassem al Khorafi, describing the unprecedented fight as "shameful", adjourned sessions until May 31 and ordered an investigation.
Independent MP Rudhan al Rudhan called on the emirate's ruler to use his constitutional powers to suspend parliament sessions for one month.
Shiite MP Adnan al Mutawa, who received a cut under the eye during the scuffle, accused Wahabi-Sunni MPs of not believing in democracy, saying attacking opponent MPs physically "is a form of terrorism."
The fight came amid heightened sectarian tension between the Shiite community and the Wahabi-Sunni majority at the background of local and regional issues.
Tensions soared when Shiites and Wahabi-Sunnis clashed over dispatching Gulf troops to Bahrain to crush Shiite-led protests and also after the uncovering of a spy ring allegedly working for the Revolutionary Guards in Shiite Iran.
Shiites say they form about 30 per cent of the 1.1 million native Kuwaitis. They have nine MPs in the 50-seat parliament and two ministers in the 16-member cabinet.
The debate was attended by a delegation of US lawyers defending the inmates. During the debate, Wahabi-Salfi MPs called on the government to press the US to free the two Kuwaiti inmates or complain to the International Criminal Court.
The US had already released 10 Kuwaitis from Guantanamo but has rejected all appeals from Kuwait, which is one of its allies, to free the remaining two.
Kuwait on December 1 disowned comments attributed to its former interior minister calling for the death of its nationals held at Guantanamo Bay.
Former interior minister Sheikh Jaber was quoted by WikiLeaks as telling the US ambassador that his country did not want to see the return of the Kuwaiti suspects and suggested "the best thing to do is get rid of them."
The exchange between Sheikh Jaber and the US envoy to Kuwait took place in February 2009 and was recorded in a US State Department cable published by WikiLeaks.
Back to top button