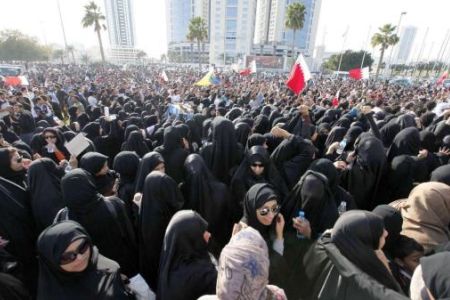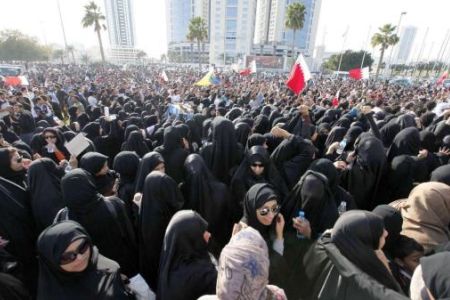 Bahraini opposition activists have announced plans for another "Day of Rage" on Friday in defiance of the martial law imposed since last week.Nine demonstrations — whose plans were circulated by email and internet — are arranged to be held across crisis-hit Bahrain on Friday.One of the rallies is expected to be heading toward the airport and another aims for Manama's Salmaniya hospital.
Government crackdown on peaceful demonstrations in Bahrain has recently been aided by troops from Saudi Arabia.Meanwhile, Press TV has learned through reports that the Saudi forces have forcefully taken about 100 people out of the hospital and shot them dead.
On March 16, Saudi forces stormed the Salmaniya hospital where hundreds of people were receiving treatment for injuries suffered in clashes with government forces a day earlier.
At least 20 Bahrainis have so far been killed, almost 100 missing and about 1,000 others injured in anti-government protests that began in mid-February against the two-century long rule of al-Khalifa dynasty.
The Bahraini demonstrators maintain that they will hold their ground until their demands for freedom and constitutional monarchy are met. They also call for a proportional voice in the government.
UN slams Bahrain arrests, harassments
The United Nations human rights office has criticized Bahrain for violating international law by cracking down on activists and medical staff.
"It is vital that the authorities in Bahrain scrupulously abide by international standards. People should not be arbitrarily arrested, they should not be detained without clear evidence of their committed or recognized crime," Reuters quoted Rupert Colville, the UN human rights spokesperson, as saying on Tuesday.
According to the UN rights office, activists and medical staff have been arrested or harassed in Bahrain, where up to 100 people have been reported missing since a crackdown on anti-government protesters last week.
"The situation in Bahrain remains very worrying with more people reported killed and between 50 and 100 reported missing over the past week," Colville said.
Two people previously reported missing have been found dead, he added.
"People should not be beaten or otherwise physically abused by security forces, injured people should not be prevented from receiving medical care, and there are continuing reports that this is happening," the UN official went on to say.
A Bahraini woman, meanwhile, died after suffering gunshot wounds to the head.
Colville also pointed to 'disturbing' reports indicating that people who have spoken on record to media have been detained or threatened.
"Those arrested are reported to include political activists, human rights defenders and doctors and nurses from the Salmaniya hospital," he said.
"Many of those who have been reporting on the situation to the outside world, including to us, have had their communications cut, and in some cases the mobile phones of their close relatives have also been cut-off," Colville emphasized.
"We would stress that demonstrating peacefully is not a crime; giving an interview to a journalist is not, by any stretch of the imagination, a crime, nor is reporting human rights abuses," he noted.
At least 20 people have so far been killed and about 1,000 others have been injured since anti-government protests in the Persian Gulf island nation began in mid-February.
Bahraini demonstrators maintain that they will hold their ground until their demands for freedom and constitutional monarchy as well as a proportional voice in the government are met.