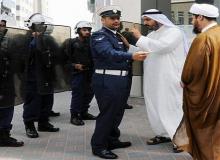 Bahrain's suppression of the Shia opposition figures in the run-up to parliamentary elections has been underlined in a new report by rights groups.
The Human Rights Watch (HRW) — a non-governmental organization which has been raising awareness about the country's political crisis — and the Project on Middle East Democracy (POMED) — a non-profit body with the stated aim to promote democratic standards in the region  — addressed the issue in a joint report a copy of which was obtained by Press TV on Saturday.
The report focuses on the Bahraini government's arrest of hundreds of Shia since August.
The organizations said that among the detainees, "at least 23 well-known political activists and Shia clerics" had been charged "with acts of terrorism. Many are vocal critics of the government, and appear to have been targeted for what they say rather than for anything they have done."
"The charge sheet is replete with accusations of 'spreading false information' and 'inciting contempt against the regime,' as well as more recognizable criminal offenses," the report added.
"Persons who have seen the detainees claim they complained of torture, and lawyers have not been able to meet with their clients, in violation of Bahraini law."
The Shia opposition refuses to recognize the 2002 constitution and has called for a boycott of upcoming parliamentary polls, due to be conducted on October 23.
The Shias enjoy demographic predominance in the kingdom. They, however, have long complained about being discriminated against by the Bahraini government when it comes to employment opportunities and the right to services.
The Bahrain Human Rights Society (BHRC), which became the country's first human rights organization when it was founded in 2000, recently reported out the apprehension of the 23 Shias for criticizing the Sunni-dominated government.
BHRC had its board subsequently suspended and was forced to take in Manama's choice of director. The Amnesty International said the suspension was part of Manama's crackdown on the Shia opposition figures and rights activists.
HRW and POMED also reminded that the Bahraini body had its board suspended "just weeks before elections."
They also said that the government had "closed down the newsletters and websites of the main opposition political societies. The government has rejected international elections monitoring, and with the takeover of the BHRS, this leaves local monitoring mainly in the hands of groups close to the government."