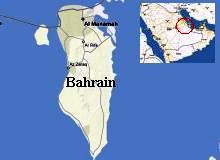 Amid increasing pressure on Shias in Bahrain, hundreds of people have staged a rally in Manama to protest Saudi Arabia's support for the latest crackdown on the majority group.
In a pro-democracy movement, protesters reportedly blocked a road connecting Bahrain to Saudi Arabia, stopping hundreds of cars by setting tires on fire on the King Fahd Bridge.
Security officials said that at least four vehicles were damaged in an explosion in the capital city of Manama.
A Bahraini pro-democracy leader based in London, Saeed Shehabi, told Press TV that nearly all useful internet websites in the country had  been shut down by the government in an attempt to prevent the spread of news about the situation in the Arab state.
The crackdown on protesters will not prevent further mass demonstrations from those seeking democracy in Bahrain, Shehabi said.
Bahrain's Sunni-dominated government has arrested more than 250 Shias since August, accusing 23 of them of plotting a coup and inciting "violence, rioting and terrorism."
The population of Bahrain is predominantly Shia. However, the majority group has long complained of being discriminated against by the Bahraini government in obtaining jobs and receiving services.
The Shia opposition refuses to recognize the 2002 constitution and has called for a boycott of the October 23 parliamentary elections.
Meanwhile, human rights groups have voiced concern about the situation, urging Bahrain to investigate allegations by some opposition activists that they were tortured while in detention.
Bahrain's Shia Muslims say their rights are being restricted by Sunni rulers and they have been discriminated by ruling elites for years.
The 70 percent Shia population of Bahrain say that authorities in Manama are granting citizenship to thousands of Sunni foreigners to counterbalance the population in the Shia-majority state.
While prominent Shia clerics have been preaching religious harmony and promoting brotherhood, Shia activists have warned the government of sectarian strife should it continue with its discriminatory policies in the Persian Gulf State