Middle East
Over 1,590 Kurdish Militias Killed in Turkish Army Attacks on Northern Syria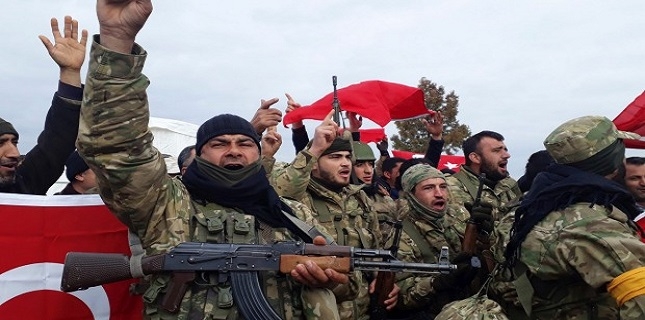 A sum of 1,595 Kurdish militias have been killed since the start of the Turkish Army's Operation Olive Branch in Afrin region in Northwestern Aleppo, local sources reported on Saturday.
The sources said that the Turkish forces and Ankara-backed militants continued Operation Olive Branch against Kurds in Afrin and captured the villages of Kalkawin and Jolmeh in Rajou region.
The Turkish army men and their allied militants also captured the villages of Tal Solour and Diwan Tahtani, they added.
In the meantime, the Turkish Army General Staff announced in a statement that the total number of the Kurdish casualties in Operation Olive Branch in Afrin stands at 1,595 now.
The Arabic-language al-Mayadeen TV quoted well-informed sources as saying on Friday that the Syrian government and the Kurdish People's Protection Units (YPG) agreed on the deployment of the Syrian Army troops in Afrin region which has come under attack by the Turkish army troops and their allied militants in recent weeks.
It added that the newly-concluded agreement is aimed at confronting the Turkish's operation in Afrin.
Other Arab media outlets said that the Syrian Army has refused the offer from the YPG to enter the Afrin region of Aleppo.
The AMN quoted sources in Aleppo province as saying on Friday that the Syrian Army rejected the YPG offer because the latter refused to hand over their weapons to Damascus.
The Syrian Army has repeatedly requested that the YPG turn in all of their weapons before their forces would enter the Afrin region and fend off the Turkish-led incursion.
However, the Syrian Army maintains that they will continue to allow the Kurdish forces to resupply the area from within their own territory in Aleppo.
Meantime, the Iran-based Arabic-language al-Alam news channel quoted Behjat Abdou, the head of the YPG committee in Afrin, as saying that no agreement was made to deploy the Syrian army soldiers in Afrin, adding that the Kurds were highly prepared to repel the Turkish army attacks.