Middle East
Locals resisting militants in eastern Aleppo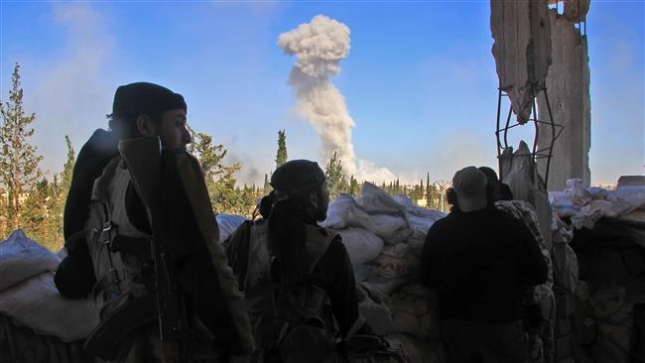 Russia says residents in the eastern part of Aleppo have started resisting foreign-sponsored Takfiri militants in the Syrian city and that the terrorists are killing protesters there.
"During the last 24 hours, in four districts of Bustan al-Qasr, al-Kalasa, al-Amriya and al-Fardous, there were spontaneous protests by local residents, which involved more than 1,500 people," Foreign Ministry spokesman Igor Konashenkov said on Wednesday.
"All the protests of local residents were violently suppressed by terrorists," he said, adding 11 protesters have been arrested in the militant-held areas of Aleppo since the beginning of this week.
Konashenkov said Takfiri militants are exercising repressive measures against the civilian population of eastern Aleppo on a rather daily basis, noting that they target both ordinary people and fellow gunmen wishing to renounce violence.
"According to the local residents who managed to escape eastern Aleppo, the terrorists carry out almost daily punitive actions in all controlled areas. They shoot down not only civilians, but also all the terrorists, who have decided to end their resistance. Yesterday, gunfire hit an impromptu rally in the districts of al-Amriya and al-Fardous, killing 27 people and injuring hundreds," Konashenkov pointed out.
The spokesman also condemned foreign-backed terrorists for blocking humanitarian corridors established by Russia and Syria earlier, and not allowing civilians to leave the conflict zone.
"Mines have been planted in all streets adjacent to them. Every day, government forces see civilians trying to approach the humanitarian corridors being killed by landmines," Konashenkov said.
The remarks came a day after people took to the streets in Aleppo's eastern neighborhood of Bustan al-Qasr, expressing their strong resentment to the presence of extremists and their blocking of international humanitarian aid from reaching the area.
There are reports that the terrorists have stockpiled international aid supplies and refused to distribute them, prompting local residents to try to seize them.
Army makes fresh gains
Syrian artillery units on Wednesday struck the positions of Fateh al-Sham, formerly known as Nusra Front, in Jobatha al-Khashab village of the southern province of Quneitra, killing and injuring an unknown number of the militants.
Separately, scores of terrorists were killed and their vehicles destroyed in army offensives against their hideouts in Kafr Laha, al-Sa'an and al-Ghantu towns of the central province of Homs.
In the northwestern province of Idlib, dozens of terrorists were killed as Syrian aircraft bombarded the town of Ariha as well as Mahambil and Sinjar areas.
Syria has been gripped by foreign-backed militancy since March 2011. United Nations Special Envoy for Syria Staffan de Mistura estimates that over 400,000 people have been killed in the conflict.