Middle East
21 civilians killed in US-led coalition attacks in northern Syria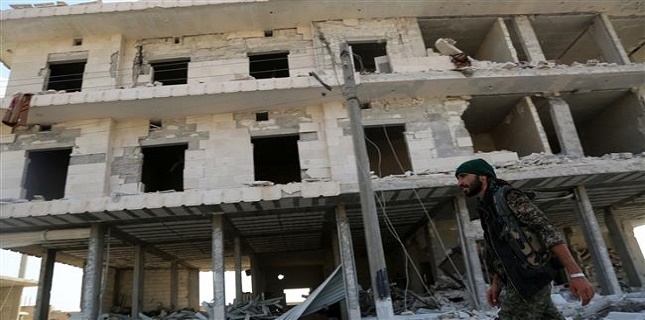 Airstrikes by US-led coalition fighter jets have killed at least 21 civilians in northern Syrian territories held by the Daesh Takfiri terrorists, a monitoring group says.
The so-called Syrian Observatory for Human Rights said Monday that at least 15 people were killed as the coalition carried out raids in a northern district of Manbij city.
The UK-based group, which advocates the Syrian opposition, said six more people lost their lives in a village near Manbij after similar attacks by coalition fighter jets.
The so-called multinational task force against Daesh started its controversial mission in Iraq in late 2014 after Daesh seized control over territories west and north of the country. The air campaign was later expanded to cover areas in northern Syria despite criticism from the Syrian government that the attacks violate the sovereignty of the Arab country.
The United States claims the attacks are carried out to assist Syrian Kurds and Arabs fighting against Daesh in areas along the Turkish border in the province of Aleppo. However, the attacks have led to numerous deaths among the civilians and Syrian military forces.
The coalition attacks on Manbij intensified in late June after Kurds and Arabs from the Syrian Democratic Forces (SDF) alliance failed in their drive to fully push back militants from the city. The SDF has attempted several times to advance from the western neighborhoods it has captured into the road south of Manbij, which connects the strategic city to Raqqah, the de facto capital of Daesh in Syria.
Thousands have fled the fierce fighting in Manbij while tens of thousands more remain trapped in the city.
The US and allies use the Incirlik air base in southern Turkey to bomb purported Daesh positions in northern Syria and Iraq.