Middle East
Russia confirms Daesh downing helicopter in Syria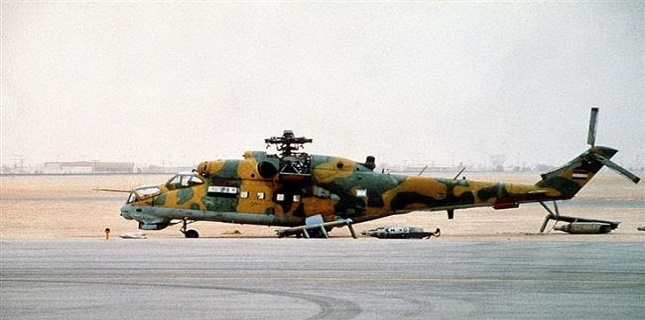 The Russian Defense Ministry has confirmed that Daesh terrorists downed a helicopter, killing its two pilots in Syria's central Homs province.
"On July 8, Russian military pilot-instructors Evgeny Dolgin and Ryafagat Khabibulin, were conducting a calibration flight on a Syrian Mi-25 (export version of the Mi-24) helicopter loaded with ammunition in the province of Homs," read an official statement released by the ministry on Saturday.
Daesh has also released footage of the attack, which was earlier denied by Russia.
"The crew received a request from the Syrian command group to help defeat the advancing terrorists and fire for effect. The captain of the aircraft, Ryafagat Khabibulin, made the decision to attack," added the statement.
The statement noted that thanks to the skillful actions of the chopper's crew the terrorist offensive had been thwarted, but the helicopter was shot down while returning to its base.
"Having spent their ammunition, while turning back to the base, the helicopter was shot down by terrorists from the ground and crashed in an area controlled by the Syrian government. The crew did not survive," added the statement.
According to Russia's Interfax news agency, the militants used a US-made TOW antitank missile system in the attack.
"According to reports, terrorists used the American TOW system to down the helicopter, which, having exhausted its ammunition, was on the course back to the base at an extremely low altitude," said an Russian military source.
Syria has been gripped by foreign-backed militancy since March 2011. United Nations Special Envoy for Syria Staffan de Mistura estimates that over 400,000 people have been killed in the conflict. The UN has stopped its official casualty count in Syria, citing its inability to verify the figures it receives from various sources.
On March 14, Russian President Vladimir Putin ordered a partial military pull-out from Syria; however, forces remain mainly at the Khmeimim airbase in Latakia and at the Tartus naval base to help maintain a Moscow-Washington brokered ceasefire.
Russia started its military campaign in Syria on September 30, 2015, based on a request from the Syrian government.
The airstrikes have greatly boosted the morale of the Syrian army as it has managed to retake key areas from militants across the country with Russia's support.