Middle East
Syrian Army Continues to Clean Jabhat al-Nusra, ISIS Terrorists Overall Country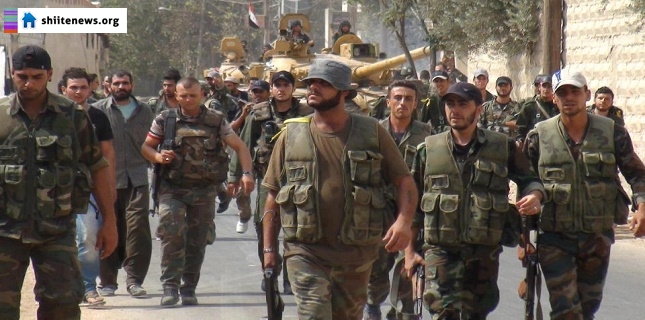 The Syrian army troops have continued on Monday carrying out counter-terrorism operations across the country, killing scores of terrorists and destroying their positions and dens, according to Syrian Arab News Agency.
Aleppo
The army restored stability and security to a number of villages, towns, farms and areas in the eastern countryside of Aleppo province, the last of which was Aleppo Thermal Power Plant, which was the country's largest electricity producing facility prior to damage suffered during the war.
Homs
A military source told SANA that the Syrian army air force destroyed two positions for Jabhat al-Nusra terrorists in Teir Ma'ale, killing and injuring many of them.
The source added that the army air force carried out raids on ISIS terrorists' gatherings and fortifications at Teloul al-Soud and Palmyra vicinity in the countryside of Homs province.
Hama
In the neighboring province of Hama, the Syrian army air force carried out sorties on the fortifications and positions of the so called "Jaish al-Fateh" terrorist group affiliated to Jabhat al-Nusra terrorist organization in the northwestern countryside of Hama province.
The air force strikes resulted in killing 13 of Jaish al-Fateh terrorists in al-Latamneh town and destroying a number of vehicles some of which equipped with machineguns in Kefr Zeita city, 38km away from Hama city.