Middle East
At least 30 killed as multiple blasts hit Sayeda Zeinab neighborhood, Damascus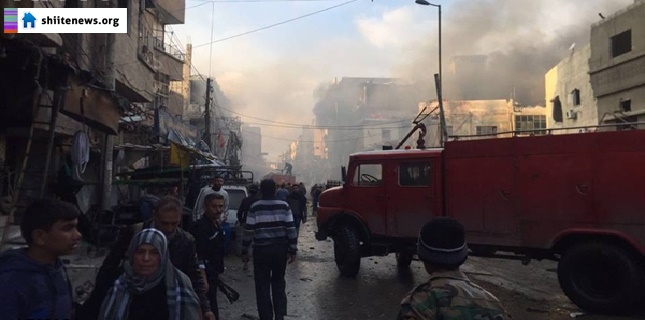 At least 30 people have been killed after multiple explosions struck a suburban area of the Syrian capital, Damascus, where the granddaughter of the Prophet Muhammad (PBUH) is laid to rest.
The blasts rocked on Sunday al-Tin Street in Sayeda Zeinab neighborhood, where the holy shrine of Hazrat Zeinab (SA) is located.
The so-called Syrian Observatory for Human Rights also said that there were four explosions, including two car bombs.
State television said the blasts had left dead and wounded but did not provide a toll.
No group has yet claimed responsibility of the attack; however, Daesh Takfiri terrorist group assumed responsibility for last month's twin blasts that rocked the same area.
Some 60 people were killed and 110 others injured after a bomber set off his explosive belt on January 31.
Sunday's explosions came only hours after twin bomb attacks claimed by Daesh Takfiri terrorists targeted a residential neighborhood in Syria's western city of Homs. At least 57 people were killed and 100 others injured in the blasts.
Syrian Prime Minister Wael al-Halqi strongly condemned the Homs terror attacks that targeted civilians and said such brutal crimes cannot undermine the Syrian nation's strong determination in the fight against terrorism.
The recent bomb attacks came as the Syrian army has been making significant gains against Takfiri militants on several fronts, particularly in the northern province of Aleppo.
Syrian government forces regained control of seven villages; Howeijena, Sobeihia, al-Rodwania, Rayan, al Qaroutia, Roufie and Ain Thabet at al Sfira area some 30 km to the northeast of Aleppo city. They also managed to take back control of strategic Faaouri and Riman hills in the eastern countryside of Aleppo.