Middle East
So-called anti-Daesh coalition huge lie: Syrian minister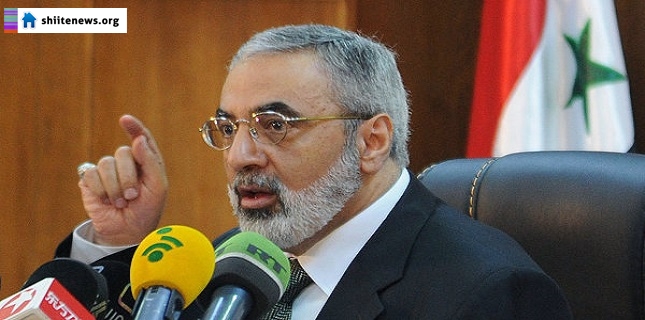 Syria's information minister has spoken strongly against the US-led coalition purportedly fighting the Takfiri Daesh (ISIL) terrorist group in Iraq and Syria, describing the alliance as a "huge lie."
Omran al-Zoubi slammed the so-called anti-Daesh coalition as "nothing but a huge lie," saying that, "Facts prove that this alliance is a failure, and that it's selective in choosing its targets," the official Syrian Arab News Agency (SANA) on Monday quoted him as saying.
Since August 2014, the United States and some of its allies have been conducting airstrikes against what they say are Daesh positions in Iraq. Since last September, some members of the US-led coalition have also been pounding purported Daesh positions inside Syria without any authorization from Damascus or a UN mandate.
This is while most members of the same alliance have long been among the staunch supporters of the Takfiri extremist groups operating to topple the Syrian government over the past four years.
Nearly 6,000 airstrikes have reportedly been launched in the campaign.
Who is being targeted?
Lieutenant General John Hesterman, a top American commander who oversees the coalition's airstrikes in Iraq and Syria, has claimed that the campaign is "the most precise and disciplined in the history of aerial warfare."
However, the airstrikes have not dislodged the Daesh terrorists and have reportedly caused huge collateral damage.
Airwars, a group of independent journalists, reported earlier in the month that the coalition has killed at least 459 civilians in just 57 airstrikes.
"Almost all claims of noncombatant deaths from alleged coalition strikes emerge within 24 hours – with graphic images of reported victims often widely disseminated," said Airwards, adding, "In this context, the present coalition policy of downplaying or denying all claims of noncombatant fatalities makes little sense."
In late March, Syrian President Bashar al-Assad said the coalition does not seek to "do away with" the ISIL terror group, stressing that certain members of the alliance "want to use this terrorist structure for threatening and blackmailing other countries."
Turkey 'helping terrorists'
Zoubi, the Syrian information minister, further criticized Ankara's attempts to fuel the deadly violence in his country, saying, "Turkey has opened its borders to allow terrorists to flow freely into Syria, with Turkish authorities sometimes even facilitating this flow."
Several reports have recently emerged pointing to Ankara's support for the Takfiri terrorists operating in neighboring Syria.
Turkey recently joined the US-led coalition, with its fighter jets launching their first airstrikes inside Syria last Friday. Ankara has also allowed the US Air Force to use its military bases as a launch pad for the raids against the purported Daesh targets.
Prior to joining the coalition, Turkey had been launching unilateral airstrikes against what it claimed were Daesh positions in Syria as well as the positions of the Kurdistan Workers' Party (PKK) in northern Iraq.
Back in May, Turkey and the United States officially started a joint program for training and equipping the militants operating against the government in Syria. Turkish Foreign Minister Mevlut Cavusoglu said at the time that Ankara and Washington would jointly select those militants they deem suitable to attend the training.