Middle East
Assad Warns of Extremism Threat to Arab Identity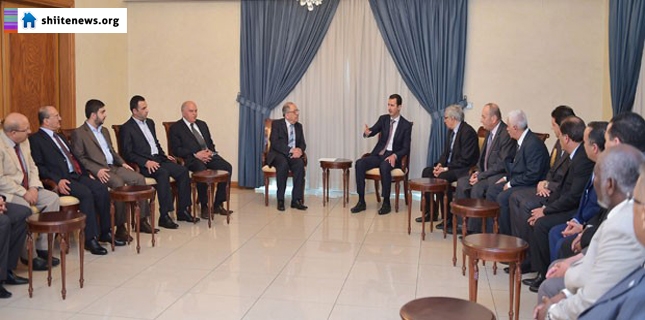 President Bashar al-Assad warned Wednesday of the attempts at undermining the Arab culture and identity, saying these are the highest risk targeting the Arab Nation these days, SANA reported.
The President's remarks came during a meeting with members of the General Secretariat of the Union of Arab Teachers (UAT) and heads of the organizations affiliated to it, who took part in the Union's 19th conference in Damascus.
He highlighted the significant role which the educational institutions and other popular organizations in the various Arab countries could play in entrenching awareness of the Arab identity and maintaining the Arabic language.
The President referred to these organizations' role in "fortifying the new generation against the cultural invasion of the obscurantist extremist thinking which has become an existential threat to the Arab Nation."
He called for institutionalizing the work of the Arab popular organizations through integrating their roles and holding extensive meetings in service of defending the interests of the social strata they represent.
For their part, representatives of the Union said holding their meeting in Damascus this year reflects their full solidarity with Syria in face of the terrorist aggression waged against it to undermine its pan-Arab position and commitment to its independent decision.
They added that they will carry a message back to their countries that Syria will come out of its crisis victorious thanks to its people's resilience and the sacrifices of its army.