Middle East
Turkish attacks worsen Humanitarian Crisis in NW Syria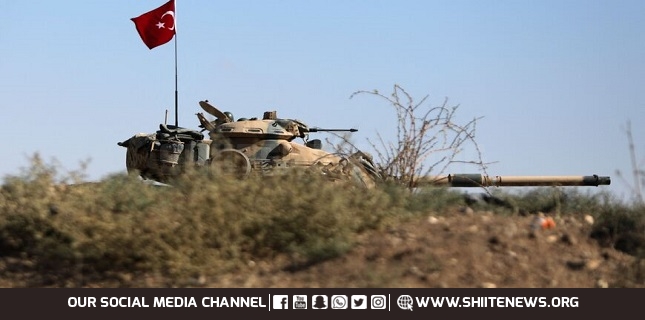 Recent Turkish attacks more than two weeks ago intensified the catastrophic humanitarian crisis in the densely populated areas and critical infrastructure across north and northeast Syria.
Turkish forces have intensively fired heavy artillery shells at villages in the Shirawa district in the Afrin countryside, north of Aleppo, causing material damage to civilians' properties only on recent days.
Yesterday, Turkish forces fired heavy artillery shells on Ain Al-Arab (Kobani) countryside in eastern Aleppo countryside, in addition to Tel Abyad countryside northern of Al-Raqqa.
The Turkish forces fired heavy artillery shells also at Ain Issa, north of Al-Raqqah.
Turkish airstrikes since November 20, 2022, are inflicting damage across north and northeast Syria exacerbating an already catastrophic humanitarian crisis for Kurds, Arabs, and other communities in the region, Human Rights Watch said today.
The strikes have displaced families, caused significant power cuts and fuel shortages, forced aid organizations to temporarily suspend certain activities, and led to school and work disruptions in northeast Syria.
Syrians after the long civil war that began in 2011 are already enduring a humanitarian catastrophe, a growing displacement crisis, and an economy in free fall.
Turkey's military strikes risk making an already unbearable situation much worse for Kurds, Arabs, and other communities.
Most people affected by recent Turkish attacks are inhabitants of Kobani (Ayn al-Arab), Qamishli, Derik, and the town of Al-Jawadiyah in the al-Hasakeh governorate.
Dozens of civilians are reported to have killed in Turkey's airstrikes so far.
Turkish President Recep Tayyip Erdoğan has said the aerial attacks on northeast Syria are in retaliation for a November 13 bombing in Istanbul that killed six civilians and injured dozens, for which Turkey has blamed the Kurdistan Workers' Party (PKK) and the People's Protection Units (YPG).
The PKK and the Syrian Democratic Forces, the main ground force fighting ISIS in northeast Syria, have both denied involvement in the Istanbul bombing.
For the third time in 2022, Erdoğan is also threatening a ground invasion into regions controlled by the SDF.
This would be Turkey's fourth incursion into northern Syria since 2016.
On the eve of November 20, the Turkish air force began an offensive into northern Syria, calling it Operation Claw-Sword.
Turkey also launched airstrikes in northern Iraq, which it said were targeting PKK positions.
The damage to energy infrastructure has disrupted essential services across northeast Syria.
Targeting oil and gas facilities has also exacerbated the severe fuel shortages that have already afflicted northeast Syria, leaving civilians struggling to find cooking and heating fuel for the winter.
On November 23, Turkish strikes also targeted an SDF post at al-Hol camp, a detention camp in al-Hasakeh governorate that holds more than 53,000 Islamic State (ISIS) suspects and family members, most of them women and children from about 60 countries.
The strikes killed eight guards.
Turkey has repeatedly subjected northeast Syrian cities and towns controlled by the SDF to shelling, artillery, and drone attacks in 2022.