Middle East
Teenage Kuwaiti tennis player who shunned Israeli opponent draws praise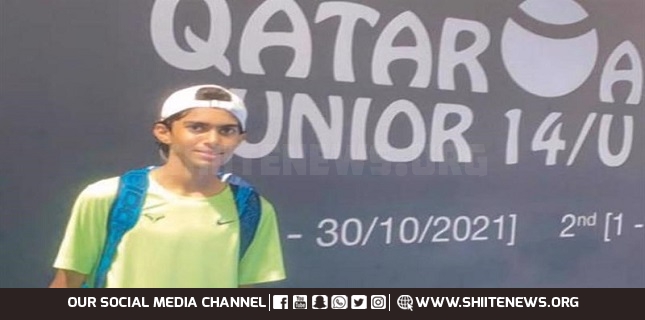 Teenage Kuwaiti tennis player Muhammad al-Awadi, who withdrew last week from an international tennis tournament held in the United Arab Emirates (UAE) to avoid facing an Israeli opponent, has earned widespread praise over his support for the Palestinian cause.
Pro-Palestine activists have set up large billboards across Kuwait, saluting the 14-year-old athlete as a great hero.
According to Kuwaiti media outlets, Awadi emerged triumphant in his first matches at the Dubai Tennis Championships U-14 and advanced to the semifinal round.
However, he decided to pull out of the tournament as soon as he was told that he was going to face a representative from the Israeli regime.
Yusuf al-Sanad, a member of the Persian Gulf Scholars Union, wrote on Twitter that the Kuwaiti tennis player's decision was taken in solidarity with the people of Palestine and in rejection of Israeli apartheid regime.
Osama al-Shaheen, a member of Kuwait's parliament, also tweeted, "Greetings and thanks to the Kuwaiti hero Muhammad al-Awadi for his refusal to normalize sports competition with the Zionists."
Palestinian resistance movement Hamas hailed Awadi's decision as praiseworthy, saying his move has its roots in the conscience of the Muslim world and is in line with the principles of honor and dignity.
"The Kuwaiti player's decision was a reflection of the valuable positions of the emir, government and people of Kuwait as to rejecting all forms of normalization with the Zionist regime, and supporting the Palestinian nation and their struggle to acquire their rights," Hamas spokesman Hazem Qassem said.
Qassem stressed that Awadi's move thwarted all "delusional attempts" to remove the Palestinian cause from the hearts of Kuwaiti people.
Dawood Shahab, a spokesman for the Islamic Jihad resistance movement, said the teenage Kuwaiti tennis player recorded his name in history by deciding to shun his Israeli opponent and rejecting normalization with the Zionist enemy.
Pro-Palestine activists have set up large billboards across Kuwait, saluting the 14-year-old athlete as a great hero.
Back in late May last year, Kuwait's National Assembly unanimously approved bills that outlaw any deals or normalization of ties with the Tel Aviv regime.
On August 18, 2020, 37 Kuwaiti lawmakers called on their government to reject a normalization deal between Israel and the United Arab Emirates (UAE).
Anti-Israeli sentiments run high in Kuwait. A poll conducted in 2019 by the Washington Institute for Near East Policy, an American think tank, showed that 85 percent of Kuwaitis oppose normalizing ties with Israel.
The teenage Kuwaiti tennis player's decision is the latest in a spree of withdrawals from international competitions by Muslim athletes in order to not face Israeli opponents.
Last year, Mauritanian chess player, Abdel Rahim al-Talib Muhammad, pulled out of the Junior World Cup after he was set to face an Israeli player.
Back on July 22, 2021, Algerian judoka Fethi Nourine withdrew from the 2020 Summer Olympics in the Japanese capital city of Tokyo, after the draw set him on course for a showdown against Israeli competitor Tohar Butbul in the second round of the under-73kg men's judo competition, if he were to advance past his first fight.
Nourine said his political support for the Palestinian cause made it impossible for him to compete against an Israeli opponent.
"We worked a lot to reach the Olympics… but the Palestinian cause is bigger than all of this," he told an Algerian television station at the time, adding that his decision was "final."
Sudanese judoka Mohamed Abdalrasool also withdrew from the Tokyo Summer Olympics, becoming the second athlete to pull out of the international multi-sport event to avoid facing Butbul.
The athletes were due to face each other in a last 32 clash.
Last August, Lebanon's Abdullah Miniato also withdrew from the international mixed martial arts (MMA) competition in Sophia, Bulgaria to avoid a match against an Israeli opponent.