Middle East
Turkish president arrives in Doha to meet with Qatari officials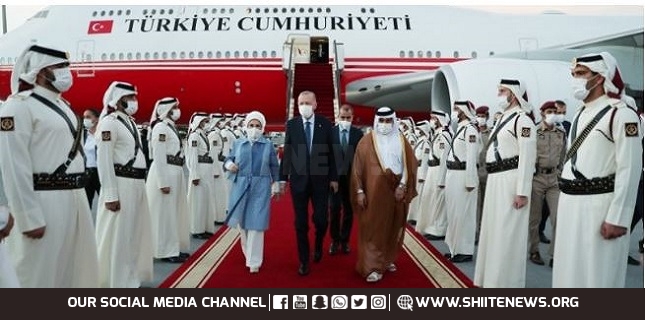 Turkish President Recep Tayyip Erdogan arrived in Doha on Monday at the head of a delegation to attend a meeting of the country's High Strategic Committee.
Turkish President Recep Tayyip Erdogan arrived in Qatar for a two-day working visit on Monday.
Erdogan, who leads a high-level delegation, was received at Hammad International Airport by Qatari Finance Minister Ali bin Ahmed al-Kuwari, Turkish Foreign Minister Mevlut Cavusoglu and Defense Minister Hulusi Akar, Turkish intelligence chief Hakan Fidan, and other officials.
Erdogan arrived in Qatar, a key regional ally, as Turkey's economy is grappling with an historic currency crash and soaring inflation following a series of interest rate cuts that he had sought despite widespread criticism.
At a news briefing in Doha, Foreign Minister Mevlut Cavusoglu said Turkey had no plans to ask Doha for financial assistance. His counterpart Sheikh Mohammed bin Abdulrahman Al-Thani said Qatar was looking at opportunities emerging from Turkey's economic challenges.