Middle East
Palestine
Jordan's King Abdullah reclaims sovereignty over two plots of land leased to Israel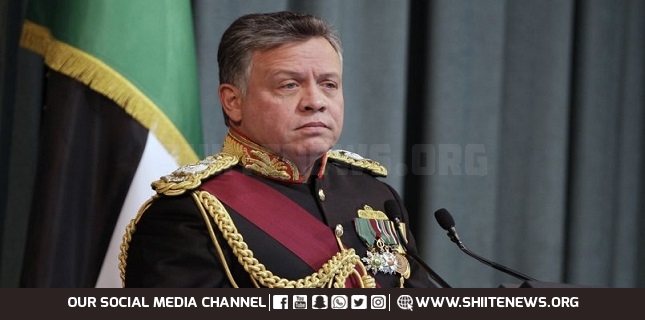 Jordan's King Abdullah II says the lease of two plots of land to Israel, under a bilateral deal signed almost a quarter of a century ago, has ended, announcing his country's "full sovereignty" over the two regions.
The Jordanian king made the announcement during a speech he delivered to Jordan's new cabinet on Sunday.
"I announce the end of the annex of the two areas, Ghumar and al-Baqoura, in the peace treaty and impose our full sovereignty on every inch of them," King Abdullah II said.
Baqoura, also known Naharayim, is an area of six square kilometers in Jordan's northern Irbid Province, situated south of the Lake Kinneret and to the north of the Israeli-occupied Palestinian territories. Ghumar, also known as Zofar, is another area that covers four square kilometers in the southern Aqaba Province and is located south of the Dead Sea.
According to the treaty inked by Jordan and the Israeli regime on October 26, 1994, the two pockets of land were leased to Israel for a 25-year renewable period, and the lease was automatically renewable except if one side gave a year's notice to terminate the deal.
In October last year, King Abdullah II said that Amman had notified Israel that it would not extend its lease of the two areas to the Tel Aviv regime, stressing that his country was resolute to reclaim both regions under the treaty.
"We have informed Israel [that we are putting] an end to the application of the peace treaty annexes regarding Baqoura and Ghumar," he said at the time, adding that Tel Aviv was "informed" regarding Amman's decision. The two areas "are Jordanian land and will remain" part of the Arab country, the king said.
Israel had controlled the two regions for over 70 years.
The results of many opinion polls show that the treaty with the Israeli regime was overwhelmingly opposed by Jordanians.
Since the 1994 agreement, Israeli farmers had had access to the territories, but they were prevented from entering the enclaves on Sunday.
Jordanian Minister of Foreign Affairs Ayman al-Safady is expected to hold a press conference on the end of the lease on Monday.
Israel and Jordan have maintained diplomatic relations since they signed the 1994 treaty. However, many Jordanians strongly oppose ties with Tel Aviv.
The Israeli mission in Amman was shut down following an incident in July 2017, when two Jordanians were gunned down by an embassy guard, prompting the return of the Israeli ambassador along with the killer to the occupied territories.
Last month, Amman withdrew its ambassador from Israel over the prolonged detention without trial of two Jordanian nationals. The ambassador went back to the occupied territories after the two were released on Wednesday.