Middle East
Son of Emir Sharjah killed by Abu Dhabi Crown Prince Bin Zayed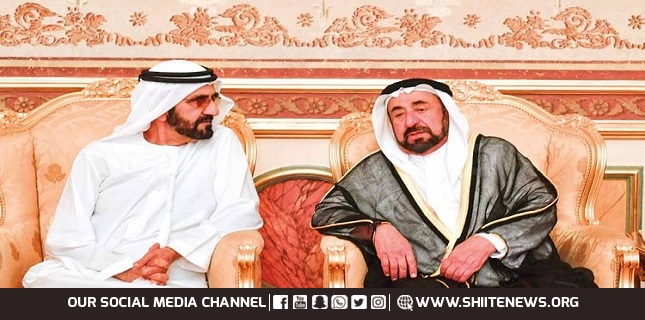 The 39-year-old son of the emir of Sharjah Khalid Al Qasimi was killed by Abu Dhabi Crown Prince Mohammed bin Zayed, a Lebanese paper reported.
The Arabic-language al-Akhbar newspaper quoted informed sources as saying on Saturday that Khalid al-Qasimi was killed upon bin Zayed's order in a complicated operation planned several months ago.
The murder happened after security reports provided to Mohammed bin Zayed said that the assassinated prince had contacts with the Saudi security apparatus which acts under the command of Saudi Crown Prince Mohammed bin Salman.
The sources said that the murder was done to send the message that Abu Dhabi can control contacts between the UAE princes and Saudi Arabia and warn other princes to avoid secretive ties with Riyadh.
Khalid Al Qasimi, the 39-year-old son of the emir of Sharjah, was found lifeless in his bathroom in his Sussex home earlier this month, and London police said his death is being treated as unexplained.
Sheikh Sultan bin Muhammad Al Qasimi, his father, wrote on social media that Khalid is "in the care of God."
"Khalid was praised for his tenacious yet sensitive exploration of social-political issues, particularly pertaining to the Middle East and its sometimes strained relationship with the West, a subject very close to his heart and upbringing," said the Instagram statement.
"His goal was to create 'a world of beautifully crafted products infused with cultural, social and political undertones to inform and inspire'," it added.
His death comes 20 years after his older brother, Sheikh Mohammed bin Sultan bin Mohammed Al Qasimi, died of a drug overdose at age 24 at the family's home in East Grinstead, West Sussex.