Lebonan
Islamic Republic Celebrates Revolution Victory in Beirut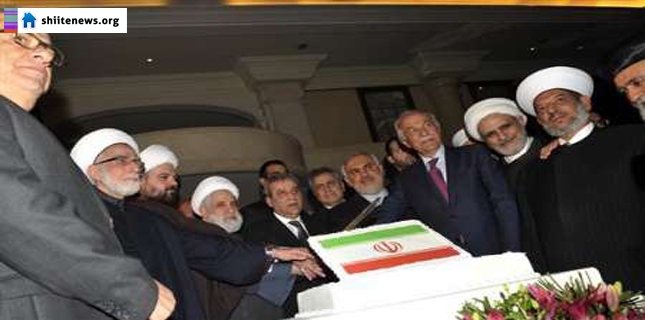 The 36th anniversary of the Islamic Revolution of Iran was celebrated on Tuesday evening in the Lebanese capital of Beirut, in a celebration attended by Lebanese religious, political, military, security, and media figures, as well as heads of diplomatic missions including ambassadors from Britain, Saudi Arabia, Syria, Palestine and the Vatican.
Iran's Ambassador to Beirut Mohammad Fathali congratulated the occasion and said the late Imam Khomeini proved that victory over the oppressors is possible through resistance, patience, determination, and resorting to divine values.
"After 36 years, the revolution is marching ahead with the wise leadership of the Supreme Leader Ayatollah Sayyed Ali Khamenei and the efforts of the Government of President Hassan Rouhani," IRNA news agency quoted the ambassador as saying.
He said that post-revolutionary Iran has made achievements in many areas, indicating that "Iran has launched satellites into the space, joined the club of nuclear energy countries, achieved the technology of missile launching, and has attained self-sufficiency in various fields such as agriculture, industry and science."
He added that the policy of imposing sanctions on Iran has not only failed, but also hardened the firm decision of Iranians to continue the path of progress with more self-confidence.
Nuclear talks between Iran and the Group 5+1 is the best evidence to Iran's intention on peacefully using nuclear technology and removing any suspicion, said the ambassador.
Iran, he said, is standing by the government, people, army and resistance of Lebanon, and believes in Lebanon unity as the best weapon against the Zionist enemy.
Deputy Secretary General of Lebanese Resistance Movement of Hezbollah Sheikh Naim Qassem attended the celebration on behalf of the Secretary General Sayyed Hasan Nasrallah.
Former Iranian regime headed by Shah Mohamad Reza Pahlavi, was toppled in 1979, and fled the country escaping from the powerful influence of the Islamic Revolution.
"I have been exhausted, and I need to take a rest … I will be traveling until I get a rest and the country's situation is stabilized," that was the last statement made by Pahlavi from Iran Airport before leaving Tehran.