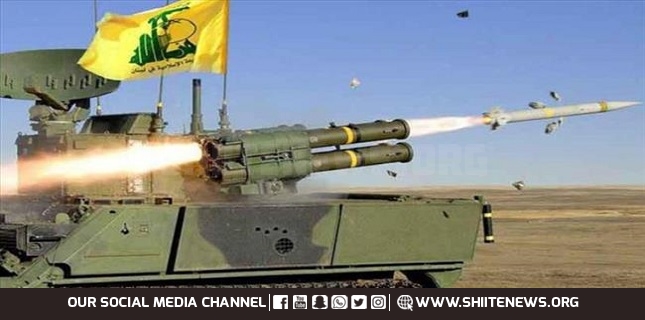 Israel is alarmed by a meteoric expansion of Hezbollah's missile capabilities, planning to "preempt" them under a five-year military restructuring strategy called "Momentum", Newsweek has revealed, citing a military official.
The plan aims to better counter adversaries across the region, particularly Iran, and one of the primary goals is to disrupt Hezbollah's precision-guided development that would give the group a strategic edge in combat, it said.
"If you want to know where the highest probability of the next round of violence or escalation in the Middle East will be—a serious one—then my money is on us trying to preempt Hezbollah's precision-guided munitions manufacturing capabilities," the unnamed official said.
"I think that the next time you will hear about combat events in Israel will be with regards to Hezbollah's precision-guided munitions project," the Israeli official said, referring to the Lebanese group armed with some 130,000 rockets.
Hezbollah was founded in the 1980s following the Israeli invasion and occupation of southern Lebanon.
Since its establishment, the movement has helped the army defend Lebanon both in the face of foreign aggression, including wholesale Israeli wars in 2000 and 2006, and against terrorism. The Israeli regime suffered a humiliating defeat during the second war.
The movement has also been playing a significant role in the Syrian army's fight against Takfiri terrorist groups, including Daesh and al-Nusra Front, thus preventing the spillover of the war into Lebanon.
The Syrian army has managed to drive the terrorists out of most parts of the country and end Daesh's territorial rule with help from Iran, Hezbollah and Russia.
Israel regularly threatens Iran with airstrikes and claims to have repeatedly targeted Iranians, offering military advisory assistance, in Syria.
Iranian officials have said Israel had a direct role in US assassination of the Middle East's most prominent anti-terror commander General Qassem Soleimani in January.
Iran responded to the assassination by firing a volley of precision-guided ballistic missiles at the Ain al-Asad airbase and another US-occupied outpost in Erbil, that rattled the Islamic Republic's enemies.
Despite Washington initially denying any casualties, the Pentagon has since gradually revealed that at least over 100 US soldiers have suffered from "brain injuries" in the operation.
The Israeli official said, "We definitely took notice of the attack on the Iraqi base with American troops."
"Iran has significant military capabilities, what Iran is trying to do is to bring these capabilities close to Israel," the official told Newsweek, acknowledging that Iran has proven capable of overcoming distances.
The US magazine said Israel's new plan signals that although it has sparred with Iran for decades without sparking a major confrontation, worsening tensions across the region could reshape the calculus or create a critical miscalculation.
It also cited an unnamed Iranian official as saying that if Israel crosses the line, the Islamic Republic would answer with force.
"The United States took action against Iran, we responded," the official told Newsweek. "If the Israeli regime takes actions against Iran, we have to respond strongly and we will."
The Iranian official, Newsweek said, regarded Gen. Soleimani as "an instrumental element in the fight against terrorism and ISIS," also known as Daesh.
The Quds Force and its Axis of Resistance played an early, crucial role in the battle against Daesh in Iraq, Syria and Lebanon.
Though the self-styled caliphists never targeted Israel, Daesh Takfiris swept through tens of thousands of square miles of land and once enforced their ultraconservative rule over millions before being decimated by Syria, Iran, Hezbollah and Russia.
Contacted about the rising tensions, Newsweek said a Hezbollah representative referred the magazine to Secretary-General Sayyed Hassan Nasrallah's latest remarks on the matter.
The Lebanese leader declared during a televised address last week that Gen. Soleimani's assassination, along with other recent US and Israeli moves viewed as destabilizing, "brought us to a new stage" in the Axis of Resistance's own purpose.
"Today, we face a new and inevitable confrontation," Nasrallah proclaimed.
Israel has also been threatening Palestinians in besieged Gaza with a large-scale war, boasting that it would be worse than the previous wars. Palestinian resistance groups have said they are ready to confront any aggression.
Palestinian resistance groups have fired hundreds of missile into the occupied territories in retaliation to deadly Israeli strikes.
The missile attacks by Hamas and Islamic Jihad more than anything have proven futile the multi-billion dollar Iron Dome missile defense system that Tel Aviv has long promoted as an agile response to rockets.
While it is not yet clear how the system fared against the recent barrage of Palestinian missiles, the fact that Israel had to accept ceasefire deals both this time and back in November speaks volumes about the true potentials of the Iron Dome.
On Saturday, Secretary General of the Palestinian Islamic Jihad resistance movement Ziad al-Nakhala warned Israel that all its cities are potential targets for thousands of missiles at the resistance forces' disposal.
"Gaza can take pride in possessing thousands of missiles that could destroy all Israeli cities," he said as he paid tribute to General Soleimani for his leading role in strengthening the anti-Israeli resistance in Palestine.