Pakistan
Shiitenews
US Defence Attaché to face trial in Pakistan or US for fatal road mishap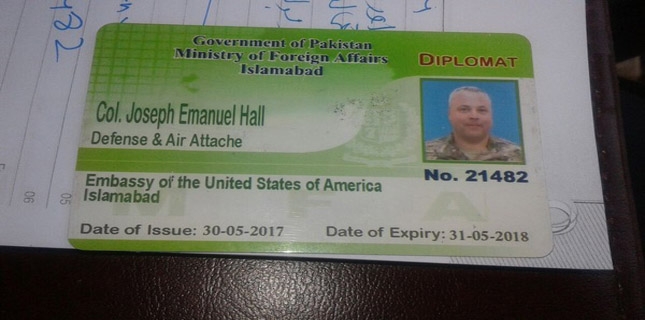 The US Attaché for Defence and Air, Joseph Emanuel Hall, who, driving a SUV rammed into a motorcycle, killing one and injuring another on Saturday, will have to face trial, either in Pakistan or his home country. In case the US embassy confirms he has diplomatic immunity against trial here, he could be tried in US courts. Due to immunity, he cannot be arrested or detained, but it doesn't apply on trial.
A senior police officer said a case was registered for the crime hence no doubt that a trial will be conducted. The diplomat has immunity regarding arrest and detention, but not against trial. He said it was up to the US embassy to decide if the trial will be conducted by the local courts or those in his native country.
Senior police officials said that as per the legal proceeding, the police completed the case registration and submitted it to the Pakistan Foreign Office, which will forward the same to the US embassy in Islamabad. The embassy will in turn decide where the trial will be held.
The foreign office can also declare the diplomat persona non-grata and ask him to leave the country, they said.
However, it was noted that the capital police bypassed the laid down procedure and gave relaxation to the accused when he was taken to the Kohsar police station after the accident on Margalla Road.
According to the procedure, immunity has to be claimed. An arrested diplomat has to show his immunity card to the police, who will relay the matter to the Foreign Office.
The Foreign Office would have to intimate the embassy in question, the ambassador of which has to claim immunity for the diplomat on the official letter head. After receiving the same, the Foreign Office then has to intimate the interior ministry, which will tell the police to let the concerned diplomat go.
Other officials said US diplomat was let go without following this procedure and that the police claims they received verbal confirmation from the Foreign Office. The police do not have the required paperwork in this regard.
They said the accident happened on a Saturday when most offices are closed and that the procedure of letting the diplomat go should have taken till Monday if properly followed. The accused would therefore have to be detained till Monday, which would not have been in violation of the Vienna Convention on Diplomatic Relations of 1961.
Sub-divisional Police Officer Secretariat Assistant Superintendent of Police Zohaib Nasrullah Ranjha said the charge sheet will be submitted to the Pakistan Foreign Office for further legal action, including a court trial against the diplomat.