Iraq
US Army has dispatched new military equipment from Jordan to Iraq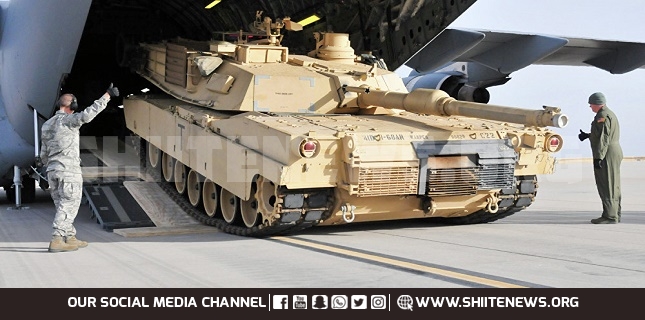 The US Army has dispatched new military equipment from Jordan to Ain al-Assad base in al-Anbar province in Western Iraq, Iraqi sources announced.
A military convoy comprising weapons and state-of-the-art military hardware has arrived in US-controlled Ein al-Assad Air Base in the city of Heet in al-Anbar province in Western Iraq from Jordan, the Arabic-language al-Ma'alomeh New Website quoted a security source in al-Anbar province as saying.
The source also said that the US forces reinforced unprecedented security measures in all their positions in al-Anbar province concurrent with dispatching military equipment to their military base.
Relevant reports said in early April, over 10,000 US forces were stationed in two occupied bases in al-Anbar province in Western Iraq.
Al-Ma'alomeh news website quoted the head of Badr Organization's office in al-Anbar province as saying that the number of US forces deployed in Ein al-Assad and al-Habaniyeh bases has increased to 10,000, adding that they have been supplied with the state-of-the-art weapons and military equipment.
The official said that the two bases also host the US marines who have been transferred recently from Syria to the region, noting that 90% of the US soldiers in Iraq are combat forces and are not considered as military advisors.
Relevant reports said last month that the American forces had established two military bases in al-Anbar province on Iraq's international road close to the borders with Syria and Jordan as political groups and politicians are trying to expel the US military troops from their country.
The Arabic-language al-Akhbar newspaper reported early March that the US forces had built up the first base on Baghdad-Damascus international road, formerly known as H3, while a second military center have been established to the South of the first base and South of the Baghdad-Amman international road, in addition to 13 other US bases spread across the country.
It noted that the first base had practically started operation, but the second one was being equipped, adding that the Americans had also set up two other new bases in al-Ratbah region which might be intended to serve as new air bases.
Reports about establishment of new bases in the region came as different political groups in Iraq were endeavoring to approve a bill in the parliament to expel the foreign forces from the country.
Meantime, sources said that Washington was trying to gain control of Baghdad-Damascus and Baghdad-Amman international roads and the large amount of gas resources in the region in addition to monitoring the resistance pivot consisting of Tehran, Baghdad, Damascus and Beirut.