Iraq
5 protesters dead as mass rallies continue in Iraq's Kurdish region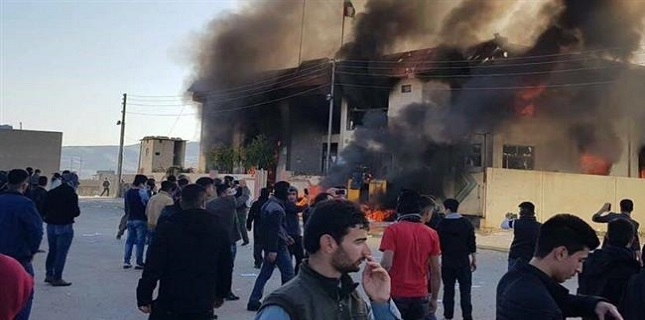 Kurdish security forces have fatally shot five protesters in Iraq's semi-autonomous region of Kurdistan as demonstrations continue there amid widespread anger over unpaid salaries and corruption.
Asayesh forces opened fire at a group of protesters in the town of Ranya, which is a part of the Sulaymaniyah province, on Tuesday after the latter stormed and set ablaze the office of the Patriotic Union of Kurdistan (PUK), Kurdish-language NRT television network reported.
Kurdish medical sources, requesting anonymity, said five were shot and killed during the imbroglio. Another 20 people were wounded as well.
Elsewhere in the Kurdish town of Koya in Erbil province, 19 people were wounded during the protests against the Kurdistan Regional Government (KRG).
Earlier on Tuesday, hundreds of protesters took to streets in at least six cities in Sulaymaniyah province.
The protestors torched the local government building in the town of Kwaisanjaq.
They also attacked and set fire to the offices of the Kurdish Democratic Party (KDP) and PUK.
Protestors threw stones at many government buildings and parties' offices, prompting the security forces to use tear gas in an attempt to disperse the crowds.
The developments came a day after Kurdish protesters torched the offices of regional Kurdish parties.
Some protestors pelted security forces guarding the Kurdish offices with stones. security forces used tear gas in response to disperse the demonstrators. Some 30 people were injured and suffered tear gas inhalation.
Frustration over unpaid salaries to teachers and other civil servants, in addition to the deterioration of basic services and widespread corruption have been described as the main reasons behind mass protests in Iraq's Kurdistan region.
the Kurdistan region has been suffering from financial and economic hardships as a result of disagreement with the central government in Baghdad over distribution of crude oil revenues extracted from the northern oilfields.
Tensions have been running high between Baghdad and the KRG after the Kurds held a controversial referendum on the independence of Kurdistan on September 25.
The referendum on secession of the Kurdistan region was held despite strong opposition from Iraqi authorities, the international community, and Iraq's neighboring countries, especially Turkey and Iran.
Following the vote, Baghdad imposed a ban on direct international flights to the Kurdish region and called for a halt to its independent crude oil sales.
On October 12, an Iraqi government spokesman said Baghdad had set a series of conditions that the KRG needed to meet before any talks on the resolution of the referendum crisis could start.
"The KRG must first commit to Iraq's unity. The local authorities in the [Kurdistan] region… must accept the sovereign authority of the federal government on… oil exports, [as well as] security and border protection, including land and air entry points," the unnamed Iraqi official added.