Iraq
Iraqi forces liberate areas in fresh offensive to flush out Daesh from desert hideouts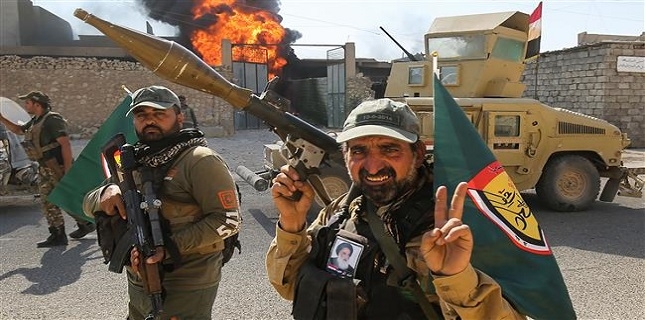 Iraqi army soldiers, supported by pro-government forces from Popular Mobilization Units, have scored territorial gains against Takfiri Daesh terrorists as they have launched a new phase of a large-scale military operation to dislodge the militants from their hideouts in the desert in western Iraq.
Iraqi troops and allied voluntary forces, commonly known by the Arabic word Hashd al-Sha'abi, managed to advance further in the al-Jazeera district in the country's embattled western province of Anbar, on Friday and liberated the villages of Atmakhiyat, Daham, Khurfan, Jalud and Umm al-Qasab from the clutches of Daesh Takfiris, Arabic-language Baghdad Today news agency reported.
The developments came a day after the commander of Upper Euphrates and al-Jazeera Liberation Operations, Major General Abdul Amir Yarallah, said army troops and Hashd al-Sha'abi had "launched a major drive to clear areas of the al-Jazeera region between Nineveh and Anbar (provinces)."
Iraqi Prime Minister Haider al-Abadi has said he will not proclaim victory over Daesh terrorists have been defeated until they have been cleared from the dry valleys and other natural hideouts, which have provided them with a desert refuge since they lost their last urban centers last month.
Yarallah announced on November 23 the launch of the second phase of the offensive aimed at clearing the vast desert near the border with Syria, which extends to the northern provinces of Nineveh and Salahuddin and the western province of Anbar.
Army troops and pro-government fighters ended the first phase of the offensive on November 17, when they drove out the Daesh extremists from their last urban stronghold in Iraq and raised the Iraqi flag over buildings in the western town of Rawah and nearby border areas north of the Euphrates River.