Iraq
World Shiites Mourn Tasoua of Imam Hossein (PBUH) in Iraq, Other Countries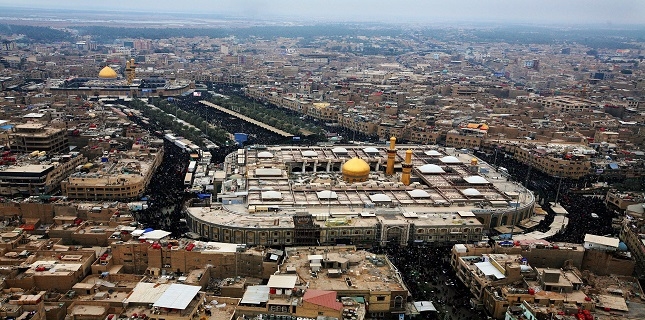 Shiite Muslims rallied in Iraq's holy cities, Karbala in particular, and other regions of the world for the annual religious ritual of Tasoua on Saturday.
Shiite pilgrims of Iraq and other countries, including Iran, flocked into Karbala, some 100 km South of Baghdad, and into Kadhmiyah in Northern Baghdad to commemorate Tasoua and Ashoura, which mark the martyrdom of Imam Hossein (PBUH), grandson of Prophet Mohammed (PBUH) and the third Shiite Imam.
Several million of pilgrims, including from foreign countries, are commemorating Tasoua.
Numbers of black-clad men, young men and children, waving green, black and red flags, and accompanied with drummers, marched through the streets of Karbala and Kadhmiyah.
Some pilgrims beat their chests and heads, performed self-flagellation with chains in honor of Imam Hossein (PBUH) who was killed in the battle of Karbala in the seventh century and since then became a key moment in Shiite history and religion.
The annual commemoration is held in different regions of the world during various mourning rituals.
Tens of Millions of people, dressed in black, took to the streets and mosques throughout the world today to commemorate the tragedy Tasoua.
Imam Hossein (PBUH) was martyred in the 680 A.D. battle fought on the plains outside Karbala, a city in modern Iraq that's home to the Imam's holy shrine.
In the battle, Imam Hossein (PBUH) was decapitated and his body mutilated by Yazid's armies. All of Imam Hossein's male family members, relatives, friends, soldiers who all together formed a 72-member army were beheaded in an unequal war with a 30,000-strong army of the enemy in the desert of Karbala.
The occasion is the source of an enduring moral lesson for the Shiites.
Imam Hossein's martyrdom – recounted through a rich body of prose, poetry and song – remains an inspirational example of sacrifice to Shiites, who make up a majority of the Muslim population in Iran, Pakistan, Iraq and Bahrain.