Iraq
Iraq says battle to retake Tal Afar from Daesh nearly won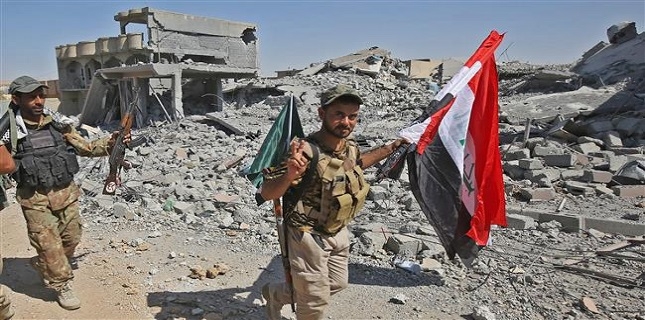 Iraqi army soldiers and allied fighters from Popular Mobilization Units have dislodged the Daesh Takfiri militants from almost all neighborhoods of Tal Afar and its surrounding areas after an eight-day offensive to drive out the extremists from the northern city.
The spokesman for Iraq's Joint Operations Command (JOC), Brigadier General Yahya Rasool, announced in a statement on Sunday that army soldiers and volunteer fighters, commonly known by their Arabic name as Hashd al-Sha'abi, had liberated all 29 neighborhoods in the city, located 63 kilometers west of Mosul.
He added that fighting was only going on in al-'Ayadiya district, which lies 11 kilometers northwest of Tal Afar, and militants who have fled the city center are holed-up there.
The commander of the Tal Afar liberation operation, Lieutenant General Abdul Amir Yarallah, also said soldiers from the army's 9th Armored Division and Hashd al-Sha'abi fighters had reclaimed full control over al-Askari neighborhood, the industrial area and adjacent al-Rahma village.
Earlier, the Iraqi military said in a statement that Iraqi rapid response forces had ended their part in Tal Afar offensive, after recapture of three neighborhoods west of the city center.
Iraqi cameraman slain covering Tal Afar battle
Meanwhile, an Iraqi cameraman has lost his life while covering fierce battles between Iraqi government forces and the Daesh Takfiri terrorists in the run-up to complete liberation of Tal Afar.
Sajjad Najm Abdul Ajil of the Arabic-language Karbala satellite television network, seen above, died on Saturday, while accompanying government troops and Hashd al-Sha'abi fighters during battles in Tal Afar and reporting on the skirmishes.
The Iraqi cameraman was killed after he stepped on an improvised explosive device.
On August 20, Iraqi Prime Minister Haider al-Abadi, also the commander-in-chief of Iraqi forces, declared the start of an operation to retake control of Tal Afar and nearby areas from Daesh terrorists.
Tal Afar is the last Daesh stronghold in Iraq's northern province of Nineveh.
Khaled al-Obaidi, the head of Nineveh provincial department of the Iraqi Ministry of Migration and Displacement, told al-Ghad Press news agency on Saturday that 10,000 people had fled Tal Afar to refugee camps south of Mosul.
Obaidi added that most of Tal Afar residents had fled towards Turkey, noting that many districts in the city had been deserted.