Iraq
Karbala Friday prayer describes Mosul operation as "admirable"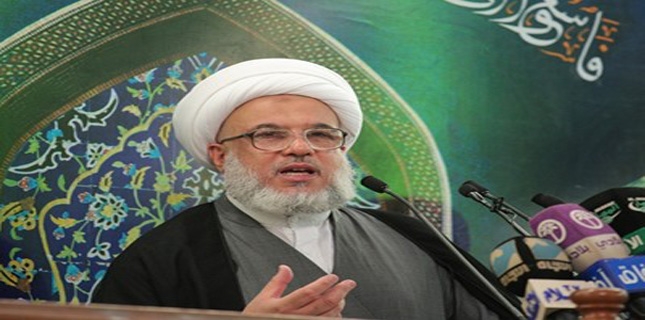 Hujjat al-Islam al-Karbala'i described the order and cohesion of the Iraqi warriors in the operation to liberate Mosul impressive as "admirable."
During his Friday prayer sermon delivered to a large and fervent crowd of believers in the Iraqi holy city of Karbala's Holy Shrine of Imam al-Husayn, Hujjat al-Islam Abdul-Mahdi al-Karbala'i referred to the operation to liberate Nineveh governorate and the city of Mosul and added that despite the various problems and difficulties they face, the Iraqi armed forces, Popular Mobilization Forces, tribal and Peshmerga forces will soon bring the Iraqi people the ultimate victory and this is due to their sacrifices.
The representative of Grand Ayatollah Sayyid Ali al-Sistani in Karbala stressed the need for cooperation and assistance to refugees and to the newly liberated areas and said that in order to stop the advance of the armed forces and reducing their losses, the Daesh terrorists are making use of human shields, thus, the warriors must be careful of civilian lives.
Hujjat al-Islam al-Karbala'i described the order and cohesion of the Iraqi warriors in the operation to liberate Mosul as "admirable" and added that the media should cover the military and field operations in a more extensive manner in order to seal the mouths of the liars and seditionists.
He noted that security forces must plan and take appropriate measures to protect innocent lives and to adopt a plan to deal with suicide attacks so that we don't witness another bitter event such as that which happened in Samarra, the town of Ayn al-Tamur in Karbala governorate and in the village of Shoumali, near Hillah.
The custodian of the Holy Shrine of Imam Husayn also expressed concern about the rising divorce rate in Iraq and said, "According to official sources, the divorce rate has risen dramatically in recent years."
Hujjat al-Islam al-Karbala'i called for the causes of this phenomenon to be investigated and added that all authorities, institutions and relevant institutions should take the necessary measures to prevent the growth of divorce and judicial authorities must also not quickly issue divorces.
The Iraqi scholar pointed out some factors of divorce and said poor information about religious and social issues and disregard for rights and family relationships are some of the causes of divorce.
Hujjat al-Islam al-Karbala'i criticized the incorrect use of social media sites and said, "Social networking sites are tools for quick access to information and easy communication between people but unfortunately some people use them in an incorrect manner."