Iraq
Iraqi prime minister hails liberation of Qayyarah airbase in Nineveh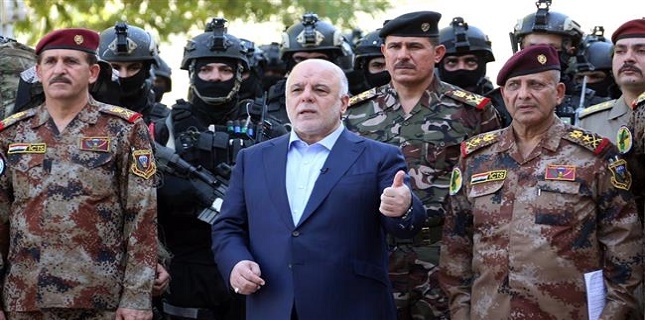 Iraqi Prime Minister Haider al-Abadi has announced the retaking of an airbase in northern Nineveh province from the Daesh Takfiri terrorists, hailing the liberation as a key step ahead of a much-awaited military operation to recapture the militant-held city of Mosul.
In a statement issued on his website on Saturday, Abadi described the recapture of the airbase in the town of Qayyarah as an "important base to liberate Mosul" and called on the city's residents "to get ready for the liberation of their areas."
Iraqi government forces fully liberated the strategic airbase in Qarayyah, a town located some 60 kilometers (40 miles) south of Mosul, from Daesh militants.
Mosul, located about 360 kilometers (225 miles) northwest of Baghdad, fell to Daesh militants in June 2014, when the Takfiri terrorist group mounted an offensive in the Arab country and overran parts of Iraq in north and west.
In another recent victory, Iraqi forces managed to push Daesh militants out of Fallujah city, located roughly 69 kilometers (43 miles) west of Baghdad, last month. Fallujah was held by Daesh for more than two years.
The Iraqi army, along with popular forces, has been engaged in operations to liberate militant-held regions.
Angry with Iraqi forces' success in liberating militant-held areas, Daesh has recently carried out a number of deadly terrorist attacks in the Arab country.
On Thursday, at least 37 civilians lost their lives and 62 others were injured when Daesh militants carried out a bombing and shooting attack near a holy Shia mausoleum north of the Iraqi capital.
Daesh also claimed responsibility for a deadly bombing attack in Baghdad's Karradah neighborhood on Sunday, which killed 292 people. The attack is the deadliest since the US invasion of Iraq in 2003.