Iraq
Bomb attack on piligrims kills 6 people north of Iraq capital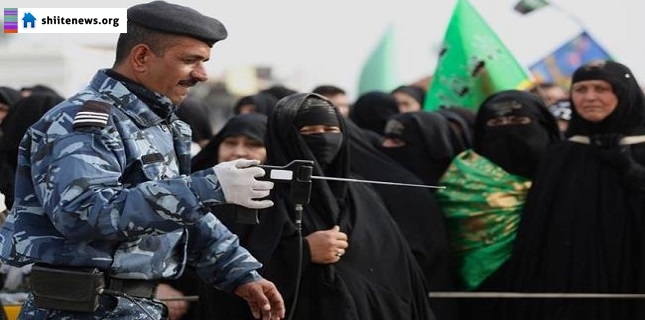 At least six people, including four Iranians, have reportedly been killed after a bomber targeted a bus carrying Shia pilgrims north of the Iraqi capital, Baghdad.
Police on Tuesday confirmed six people were among the dead in a terrorist attack that took place in the Iraqi town of Taji, located 20 kilometers (12 miles) north of Baghdad.
The bus of Shia pilgrims was returning from the holy city of Samarra when it came under attack by a bomber, who detonated his explosives as the pilgrims were getting off the vehicle at a gas station.
Samarra lies 110 kilometers north of Baghdad and is home to the shrines of the tenth and eleventh Shia Imams, Ali al-Hadi (PBUH) and Hassan al-Askari (PBUH).
Nobody has claimed the deadly attack, but it bears the hallmarks of similar assaults by ISIL Takfiri militants, who currently control parts of Iraq and neighboring Syria.
A health official, who spoke to The Associated Press on condition of anonymity, said that 11 Iranian pilgrims were also wounded in the Tuesday attack.
Iranian authorities, however, put the number of death toll at one person, saying 10 other pilgrims were also injured in the attack.
Mohsen Nezafati, an official in Iran's Hajj and Pilgrimage Organization, said the pilgrims, who had started their trip from the Iranian northeastern province of Khorasan Razavi, were not registered passengers and traveled to Iraq on their own risk.
Rising attacks on Shias
Targeting Shia Muslims and their gatherings has been a tactic frequently used by the ISIL Takfiri terrorists in Iraq over the past years. The attacks have intensified over the past months as the Iraqi government keeps purging the terrorists out of major towns and cities across the country.
On Monday, at least 11 people, most of them Shias, were killed and dozens injured in a pair of explosions in the Husseiniyah neighborhood in Baghdad.
Iraqi forces, backed by volunteers, have made fresh gains in their operation to retake full control of Tikrit, a major stronghold of ISIL militants in north Iraq.
Earlier on Tuesday, the Iraqi army raised the Iraqi national flag over the Grand Mosque of Tikrit.
The Iraqi forces also announced that they have raised the national flag on top of Tikrit's main hospital and an administrative building.
ISIL started its campaign of terror in Iraq in early June 2014. The heavily-armed militants took control of Mosul before sweeping through parts of the country's Sunni Arab heartland.