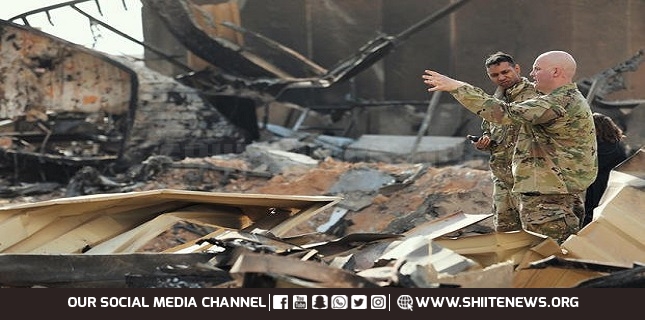 Washington has confirmed that an American was killed during military operations launched by the Iran's Islamic Revolution Guards Corps (IRGC) against terrorist bases in the northern Iraqi region of Kurdistan.
State Department spokesman Vedant Patel confirmed the fatality on Thursday. "We can confirm that a US citizen was killed as a result of a rocket attack in the Iraqi Kurdistan region," he said.
He declined to provide further details under the pretext of privacy laws, raising speculations that the killed American may have had links to security agencies.
Since Saturday, September 24, the IRGC ground forces have launched a series of aerial raids on the positions of Iraqi Kurdistan-based terrorist groups, including the so-called Komala Party, in response to the dispatching of terror teams and a large cache of weapons to western Iranian regions aimed at creating unrest following the death of a 22-year-old Iranian woman.
The Komala group has a long history of involvement in terror attacks and acts of sabotage in Iran in close collaboration with the US and the Zionist regime. Back in August, Iran's Intelligence Ministry dismantled a Mossad-affiliated terrorist group some members of which were from Komala.
In a statement on Thursday, the IRGC Ground Force said that the operations against terror bases will continue until all anti-Iran separatist and terrorist outfits holed up in the rugged mountainous area lay down their arms and surrender.
"In the wake of an uptick in the seditious acts of separatist and terrorist groups stationed in Iraq's northern region (of Kurdistan), the proven role and involvement of some terrorist and separatist outfits in the recent riots that have gripped some Iranian towns and cities, the discovery and neutralization a major sabotage plot hatched by Komala terrorist group against Iran's nuclear facilities, and disregard of the Kurdistan Regional Government (KRG) officials for calls demanding the destruction of the terrorists' bases, the IRGC Ground Force identified their command centers and headquarters, which were also instigating and supporting recent wicked acts, and heavily bombarded them in a decisive and retaliatory response," it announced in a statement.
This comes as Washington has supported recent violent riots in Iran which have claimed dozens of lives and inflicted heavy damage to public properties.
Protests broke out in several Iranian cities over the September 16 death of Mahsa Amini, a young Iranian woman who died in a hospital days after collapsing at a police station in the capital Tehran, where she and a group of others were receiving educational training on dress code rules.
Despite Iranian officials' clarification on the circumstances surrounding Amini's death and their promise for thorough investigations, violent protests have erupted with direct support from certain foreign countries.
Foreign Ministry spokesman Nasser Kan'ani on Monday slammed the US's support for the violent riots in Iran, urging Washington to abandon empty slogans and end decades of sanctions against the Iranian nation if it is a real advocate of Iranian people's rights.
"American and European political leaders, their news agencies, and Persian-language media outlets supported by the West have exploited the tragic incident of the death of a young woman and backed rioters and disruptors of the country's national security under the motto of supporting the rights of the Iranian nation," Kan'ani wrote in his Twitter account.
"They left no stone unturned in this regard," he said, adding that there is no doubt that the enemies' hybrid and psychological war against the Iranian nation will be recorded in history along with hundreds of cases of their disgraceful failures.