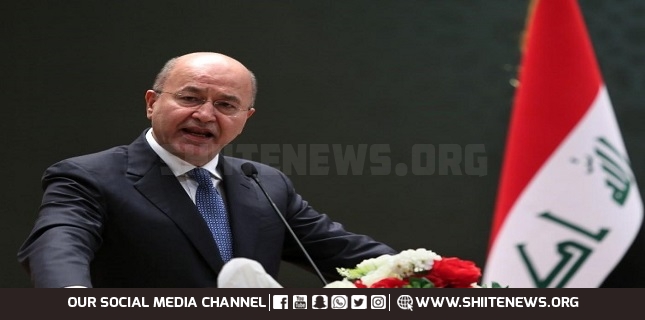 In a statement, the Iraqi president condemned the US attack on al-Hashd al-Shaabi or Popular Mobilization Units (PMU) positions, calling it a violation of Iraqi sovereignty and national security.
The Iraqi president Barham Salih stressed in a statement that it condemns the targeting of a base on the Iraqi-Syrian border.
The statement condemned the attack as a violation of Iraq's sovereignty and national security and undermined national efforts to achieve security and stability.
"Through diplomatic efforts, Iraq strongly supports the options of dialogue and contact with the various parties to ensure the country's security, stability, and sovereignty," it added.
On Monday morning (yesterday), news sources in Iraq and Syria reported the attack of unidentified planes on the support and logistics base of the 14th al-Hashd al-Shaabi Brigade in the Bukamal area on the Syrian-Iraqi border.
Minutes later, Pentagon issued a statement claiming responsibility for the attack
Four Iraqi forces were killed in the attack. Ahmad al-Maksousi, commander of the 14th al-Hashd al-Shaabi Brigade, issued a statement condoling the martyrdom of his colleagues and announcing to the al-Hashd al-Shaabi Command that his forces were ready for revenge.