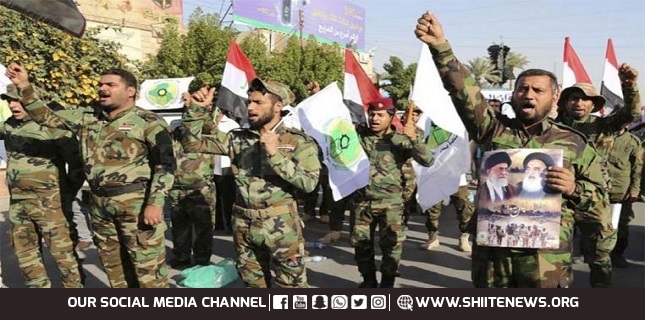 A prominent Iraqi commander says resistance factions have declared the end of a truce with the United States over its failure to withdraw troops from the Arab country.
Speaking to the Middle East Eye (MEE) news portal on Monday, the commander whose name was not mentioned in the report, said the anti-terror groups have decided to resume attacks on American military convoys and army bases.
Last October, all resistance factions in Iraq agreed to suspend attacks on US occupation forces provided that the government presents a timetable for their pullout.
They called on the government to implement the January 5, 2020 parliamentary resolution that demands the expulsion of all foreign military forces led by the United States.
The resolution came two days after the US assassinated Iran's legendary anti-terror commander Lieutenant General Qassem Soleimani and his Iraqi trenchmate Abu Mahdi al-Muhandis, the deputy head of the PMU, in a drone strike authorized by former president Donald Trump near Baghdad International Airport.
Mohammed Mohi, the spokesman for Kata'ib Hezbollah resistance group, warned at the time, "If America insists on staying and doesn't respect the parliament's decision, then the factions will use all the weapons at their disposal."
In the interview, the Iraqi commander said the anti-terror groups have decided to end the October truce due to "the lack of seriousness of the Iraqi and US governments in scheduling the withdrawal of US forces from Iraq".
"All factions agreed to escalate [attacks] against American forces. They decided to carry out more attacks, some of which would be previously unfamiliar in Iraq," he added.
"It was decided that the operations would be qualitative and effective. Some would be carried out using missiles, while others would be carried out by drones."
In early 2003, the US invaded Iraq under the later debunked pretext that the regime of Saddam Hussein possessed weapons of mass destruction.
It withdrew soldiers from Iraq between 2007 and 2011, but redeployed them in 2014 along with other partners to allegedly counter the threat from the Daesh terrorist group.
Since then, Washington has been fabricating scenarios to prolong its presence in the country in defiance of the parliamentary resolution.
Baghdad and Washington have in recent months held several rounds of strategic talks on the pullout of foreign forces from Iraq.
On Saturday, the Iraqi Resistance Coordination Commission (IRCC) said the government had been given multiple opportunities to determine the fate of foreign military personnel, "but what resulted from the (Iraqi-American) rounds of talks was very bad and unfortunate."
"By rejecting to exit its forces [from Iraq], the US administration has sent us a clear message that they only understand the language of force. Therefore, the Iraqi resistance confirms its full readiness to carry out its legitimate, national and legal duty to achieve this goal," it stressed in a statement.