Iraq
Two rockets target US-occupied Iraqi air base near Baghdad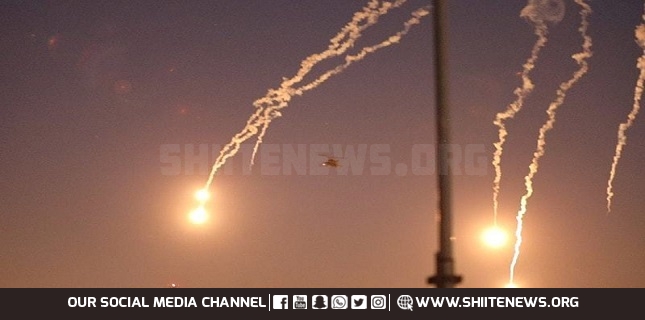 At least two rockets have targeted an Iraqi air base occupied by American troops near the capital Baghdad.
Security sources said that the rockets struck close to al-Balad air base Sunday, but did not cause any casualties or damage inside the base.
The base is located some 80 kilometers north of Baghdad.
No group has claimed responsibility for the attack yet, but there have been several such attacks in recent weeks targeting locations where US forces are positioned.
The last attack on Balad air base was on March 15 when at least five rockets hit the site.
The Sunday's assault was the latest in a string of attacks against US positions that were carried out after US President Joe Biden, in February, ordered airstrikes on positions of anti-terror Popular Mobilization Units (PMU) along the Iraqi-Syrian border, where they were fighting remnants of the Takfiri Daesh terrorist group.
The Iraqi counter-terrorism forces pledged retaliation, prompting the US military forces to go on high alert and adopt maximum security measures in anticipation of a response.
Dozens of rocket attacks and roadside bombs have targeted Western security and military sites in Iraq since last year.
Iraqi anti-terror movements have said the armed resistance against the American forces occupying Iraq will continue until they are fully removed from the Arab country.
"We emphasize that the current operations of the resistance will continue and will increase everywhere in Iraq, in the west and in the north of the country. This is a fundamental issue which we want to be a national stance," leader of Iraqi anti-terror movement Asa'ib Ahl al-Haq, Qais Khazali, said on Thursday.
Anti-US sentiment has been running high in Iraq following last year's US assassination of top Iranian anti-terror commander General Qassem Soleimani and senior PMU commander Abu Mahdi al-Muhandis, in addition to several other comrades, outside the Baghdad airport.
Iraqi resistance groups have vowed to avenge the assassinations, but denied any role in such rocket attacks.
Two days after the assassinations, the Iraqi parliament voted for a resolution that called for expulsion of all foreign forces, including the Americans.
The Iraqi parliament's resolution concerning withdrawal of US troops from the entire Iraqi territory, including the semi-autonomous Kurdistan region, is unambiguous and irreversible.
Washington, however, has threatened sanctions should US troops be expelled from Iraq instead of ending the occupation of the Arab country.