Iraq
General Soleimani stood by Iraqi people: Iraqi President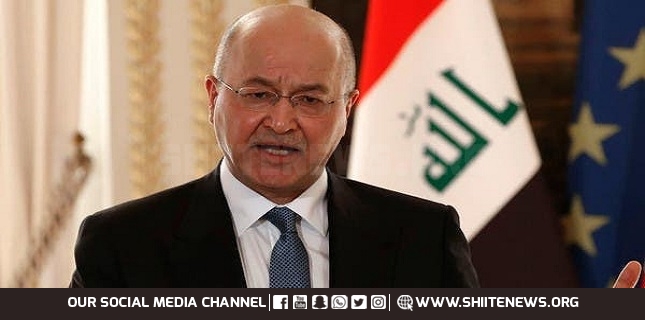 The Iraqi president today praised the martyred commanders 'Qasem Soleimani' and 'Abu Mahdi al-Muhandis' and said that General Soleimani stood by the Iraqi people in times of hardship.
Iraqi President Barham Salih today (Tuesday) at the official commemoration ceremony of the martyred commanders in Baghdad, attended by a number of the senior Iraqi state and military officials, including Faleh al-Fayadh, head of al-Hashd al-Sha'abi, Hadi al-Amiri, head of the al-Fatah coalition in Iraq, Minister of Defense, Juma Anad Saadoun and Interior Minister, Osman al-Ghanimi said that Gen. Soleimani, the great Iranian commander, stood by the Iraqi people in hardship.
At the ceremony, which was also attended by the Ambassador of the Islamic Republic of Iran, Iraj Masjedi, he added that today we are holding a memorial service for two prominent figures who have a long history in the fight against terrorism and dictatorship.
The Iraqi president also praised the spiritual role of the Iraqi religious authority in mobilizing the people and achieving victory.