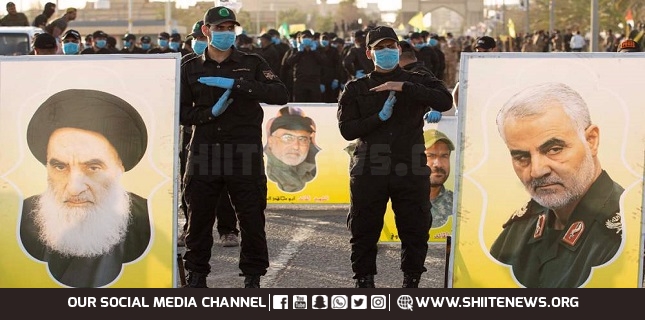 An Iraqi lawmaker says the US embassy in Baghdad is blocking the arrival to the parliament of the results of investigations into the January assassination of Iran's top commander Lieutenant General Qassem Soleimani and Abu Mahdi al-Muhandis, the second-in-command of Iraq's Popular Mobilization Units (PMU).
"The US embassy in Baghdad imposes its views on the Iraqi government and prevents the results of the investigation into the assassination of the leaders of victory (General Soleimani and Abu Mahdi al-Muhandis) from reaching parliament," Fatah Alliance lawmaker Abdul Amir Taiban told Arabic-language al-Maalomah news agency on Wednesday.
He noted that the US Embassy in Baghdad also imposes its decisions on Iraq's sovereignty, saying, "We call on the United States to end its rebellion against the Iraqi sovereignty and people."
On January 3, US President Donald Trump ordered strikes that killed General Soleimani, the late chief of the Quds Force of Iran's Islamic Revolution Guards Corps, and his companions near Baghdad International Airport.
Iraqi lawmakers approved a bill two days later, demanding the withdrawal of all foreign military forces led by the United States from the country.
In July, Iraq said Baghdad and Tehran were to jointly sue the US for the assassination on its soil, which it described as a criminal act.
In a statement, Iraq's Supreme Judicial Council also said it has coordinated its legal procedure with the Iranian Judiciary and the two countries will file a joint lawsuit against the US.
"The investigation into the airport incident began from the first moment and the Iraqi judiciary dealt with that incident as a criminal act that took place on Iraqi land where some of the victims are Iraqis," the council said.
Earlier in July, a conclusion by the United Nations described the US' assassination of the Iranian commander as "unlawful."
Agnes Callamard, the UN's special rapporteur on extrajudicial, summary or arbitrary executions, concluded in a report that the assassination was in breach of international law.
Also in June, a senior Iranian judge said that Interpol Red Notices had been issued for the prosecution of dozens of military and political officials of the United States, including President Trump, on charges of planning and implementing the terrorist attack against General Soleimani and his companions.
"Thirty-six people who were involved in the assassination of General Qassem Soleimani have been identified, including political and military officials from the United States and other governments," Tehran Prosecutor Ali Alqasi-Mehr said on June 29.
In response to the assassination, the IRGC fired volleys of ballistic missiles at two US bases in Iraq on January 8.