Iraq
Hakim announces formation of new Iraqi parliamentary coalition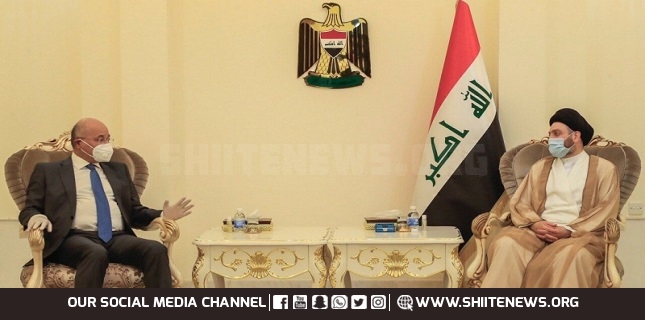 The Secretary-General of Iraq's National Wisdom Movement (Hekma) announced the formation of a political, parliamentarian, and public-based coalition that aims to support the government and the sovereignty of the country.
Seyyed Ammar al-Hakim made the remarks during a meeting with Iraqi President Barham Saleh in Baghdad.
During the meeting, which took place at the office in Baghdad, the two sides discussed the health crisis, Iraq's good relations with its neighbors and countries around the world, and the economic problems caused by falling oil prices.
The two sides stressed the importance of concerted efforts to confront the Coronavirus Pandemic.
For his part, Saleh extended congratulations on the occasion of the emergence of the Iraqis coalition.
Forty Iraqi lawmakers formed "Iraqis Coalition" to support the government of Prime Minister Mustafa al-Kadhimi, which declared a war on corruption and clashed with Iran-backed armed factions.
Hakim stressed that the coalition was formed by a number of political forces and independent national figures, aiming to enhance the path of the state and its institutions, applying the law to all, restoring confidence in the political system, and supporting armed forces.
The coalition's main goals are also to support true and courageous reforms in the face of corruption, meet the demands of the protesters, and enable a moderate approach to support political stability, said Hakim.
He noted that the "Iraqis Coalition" wants to ensure the country is not involved in regional and international conflicts while maintaining strong relations and mutual interests with the regional and international parties.
The coalition aims to hold early and fair elections that ensure the rights of all parties. It also wants to support real development efforts of the entire political system, aside from any futile effects that hinder reform, construction, and reconstruction.
Hakim stressed that the members of the coalition are moving towards correcting the political track, restoring the state's sovereignty, and establishing stability.