Iraq
Washington must respect Iraq's sovereignty: Ammar al-Hakim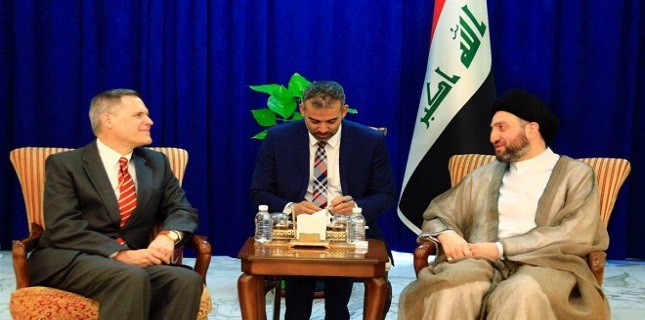 In a meeting with the US envoy to Baghdad Mathew Tueller on Sunday, the leader of Iraq's National Wisdom Faction Seyyed Ammar al-Hakim stressed the US respect for the Iraqi sovereignty and interests in the strategic talks between the two countries.
In the meeting which was held in Iraq's Wisdom Faction's bureau, the two sides discussed the latest political developments of Iraq and region, bilateral relations between the US and Iraq.
Seyyed Ammar al-Hakim asked the US to support the new Iraqi government in solving the country's crises and stressed the importance of the early election, implementation of the government's plans, equipping Iraqi security forces to prepare grounds for holding safe and healthy elections.
On March 13, 2020, Iraqi cleric and politician who led the Islamic Supreme Council of Iraq from 2009 to 2017 Seyyed Ammar Hakim condemned violating Iraq's sovereignty and bombardment of Popular Mobilization Forces (Hashaad al Shaabi) positions by US forces.
On March 13, American aerial bombardment struck headquarters of Hashd Al-Shaabi, emergency regiments as well as commandos from the 19th Division of the army."
It is reported that 2 Babil Police forces martyred in the attacked and 7 others including 3 from PMU, 2 from Army, and 2 others from interior ministry injured in the US air raids.