Iraq
UAE, S. Arabia Plotting Coup in Iraq under Cover of Protests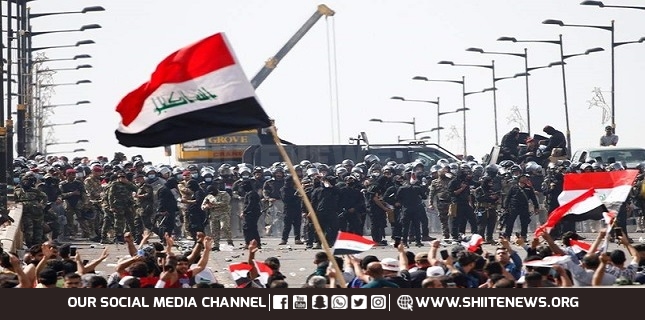 A leading Arab newspaper said the UAE and Saudi Arabia have for several months been plotting to launch a coup against Iraqi Prime Minister Adel Abdul Mahdi.
The Arabic-language al-Akhbar newspaper wrote on Saturday that since Abdul Mahdi was entrusted with formation of a cabinet in Iraq and the al-Fatah and Sa'eroun coalitions gained the most seats in the Iraqi parliament, attempts have been made by Abu Dhabi and Riyadh to overthrow Abdul Mahdi's government.
The paper said the coup plot was designed in the US, the UAE and Saudi Arabia, adding that the UAE was the center for masterminding the scheme, and a number of officials, including Tahnoon bin Zayed Al Nahyan, the UAE National Security Advisor, and his advisor Mohammad Dahlan (a Palestinian accused of ties with Israel), have been responsible for planning the coup.
It added that Saudi Arabia has invested a sum of $150mln in the planning and implementation of the coup project, and said the plot has been implemented by Iraq's civil society which receives the financial support of the US embassy.
The newspaper reminded the remarks made by former Saudi Ambassador to Baghdad Thamer al-Sabhan who had said that Iraq will be different in October, saying that al-Sabhan had cautioned that a major incident would rock the country's political process.
The protests in Iraq that started early in this month subsided after the public got engaged in holding the annual massive march of Arbaeen, but restored on Friday after religious rituals of the second month of the Islamic calendar were over.
In the first round of public protests 3 weeks ago, analyses revealed that 79% of hashtags about protests in Iraq on Twitter originated from Saudi Arabia and only 6% were from Iraq, in a stark contrast with claims that the demonstrations were popular and spontaneous.
Iraq's Grand Ayatollah Seyed Ali Sistani warned against the infiltration of agents with malevolent intentions into public protests in the Arab country, calling upon demonstrators and security forces to keep anti-occupation rallies peaceful.
"Don't let those with vicious intentions to infiltrate among you and attack security forces," the official representative of Ayatollah Sistani in Iraq Abdul Mahdi al-Karbalai said on Friday, conveying a message of the senior cleric.
He added that public protest is a right enshrined in the Constitution, and warned that, however, protests should not be used as a pretext for vandalizing public properties or injuring security forces.