Iraq
Iraqi Prime Minister promised to reshuffle cabinet, probe into killings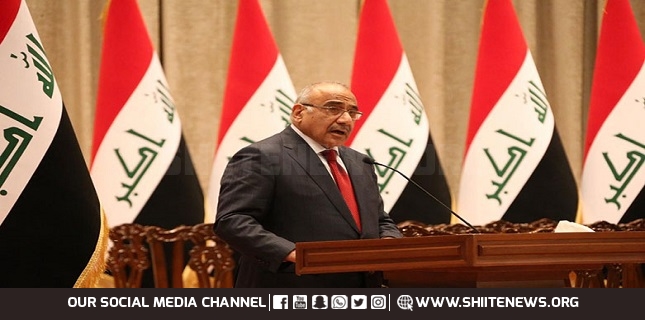 Iraqi Prime Minister Adel Abdul-Mahdi has promised to reshuffle his cabinet, launch a probe into the killing of protesters, and punish those who shot the demonstrators.
"We will ask the parliament to vote tomorrow on changes to ministries," the Iraqi prime minister said in a televised speech on Wednesday.
He vowed that his government will refer the names of hundreds of corrupt officials to the judiciary for investigation.
Abdul-Mahdi also declared three days of national mourning over the deaths of at least 110 people and injuries of more than 6,000 others during the recent violent clashes between security forces and demonstrators in Baghdad and the country's south.
"We gave clear orders not to use live fire but there were still victims of shooting," he said.
Protests erupted in the Iraqi capital Baghdad last week and soon spread to southern cities. Abdul-Mahdi's government has sought to address demonstrators' grievances.
On Tuesday, the government submitted a new series of reforms in an effort to respond to protests against corruption, staggering youth unemployment and poor public services.
Abdul-Mahdi's cabinet approved the second package of reforms, including distribution of residential plots of land to citizens, expansion of municipal borders of cities, and changing agricultural land into residential.
The planned reforms also contain freezing the law, which allows payment of several salaries to one public servant, providing jobs for young people and activation of the agricultural lending fund.
On October 4, Iraqi Parliament Speaker Mohammed al-Halbousi vowed to implement plans to deliver basic reforms "within a time frame."
The recent unrest has shattered nearly two years of relative stability in the country since the defeat of Daesh in 2017.
Iraq suffered for decades under the rule of former dictator Saddam Hussein and UN sanctions, before the 2003 US-led invasion started years of civil war.