Iran
Rouhani: Security Stability and democracy in Iraq is very important for us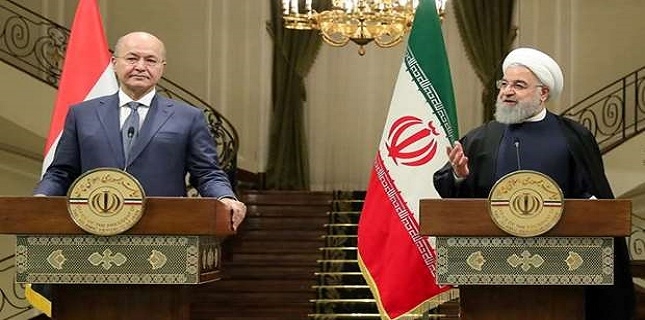 "In Iraq, we feel at home," Irani President said, "Relations between the two Iranian and Iraqi nations go back to thousands of years ago, and we are willing to further develop our religious, cultural, historical and regional relations".
Speaking after meeting with President Barham Salih of Iraq on Monday, President Hassan Rouhani said, "During the negotiations with the President of Iraq, I saw no point of divergence".
"The relations of the two countries serve the interests of both nations and governments and we will do our best to deepen these relations," he said.
He continued, "The two countries have been fighting terrorism in years and we are happy that we have been alongside the Iraqi nation and army in the hard days of combatting terrorism".
Describing Iraq a very important Arab and Islamic country, he said, "Iraq can play a very important role in the security of the region and establishing closer ties among the countries of the region".
"We want to be closer and united with Iraq, not against another country, but rather we want to have other countries in the region alongside us," he said.
Dr Rouhani also went on to say, "For us, security, stability and democracy in Iraq is very important and a more secure, stable Iraq will contribute to more stability and security in the entire region".
The President added, "We attach great weight to this visit and we hope that we can witness development of relations between the two friendly and brotherly countries".
He also went on to appreciate the Iraqi people for their hospitality, especially during the days of Arba'een.
President of Iraq said in the joint press conference, "The two countries are trying to remove the obstacles on the way of development of relations".
"This visit is a very good opportunity for us to thank our dear guest for Iran's role in Iraq's great victory against ISIS," he said.
The Iraqi President also said, "Common security is an element that requires more cooperation between Tehran and Baghdad".