Iran
Top Shia Cleric Messages Egyptian, Saudi Arabia Muftis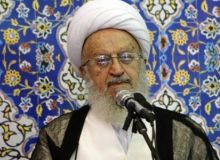 Amid the upheaval in the Middle East and North African countries, Iranian top cleric addresses Egyptian and Saudi muftis over their controversial stance towards the uprising of the people.Ayatollah Nasser Makarem Shirazi, Iranian senior jurisprudent in a message addressed Egyptian and Saudi Arabia grand muftis wondering  over their stance towards the recent uprisings and protesters.
Part of the message runs, "One of the important issues regarding the massive uprising of the Muslim people against their oppressive rulers is the stance some of the religious leaders have taken.
It was announced in the news that some Muftis from Egypt and Saudi Arabia have called the uprising as Haram (forbidden) while the people are protesting oppressors and arrogant powers.
The reason for these incorrect stances which led to separation of the nation and especially the youth from religious leaders is the incorrect fatwa which has been obeyed since long time ago. According to this fatwa, people are obliged to obey the leader no matter if the ruler is a just one or an oppressor."
Iran's top cleric then asked for a reformation in the old decree and said, "It is high time that they (clerics in Egypt and Saudi Arabia) revised the decree and exclude oppressive rulers from this fatwa. Rising against such leaders has to be announced mandatory.
He referred to Qur'an and said that according to holy Qur'an the first measure, when two Muslim groups are at war, is to bring peace between them and if it was not possible you have to conflict against the oppressor.
"Are not rulers in Libya, Bahrain and Egypt examples of these oppressive rulers?" asked top cleric and concluded with a call for Muftis to revise their Fatwa, join the public move of the Islamic nation so that the enemies of Islam cannot hijack the Islamic move for their own benefit
Back to top button