Iran
Grand Shia Cleric Warns U.S. and Obama Accountable if Quran Burned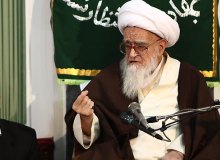 QOM, Iran — Ayatollah Safi Golpayegani has warned the United States that there will be major repercussions if the plan to burn the Quran on the 9/11 anniversary is carried out.
Ayatollah Golpayegani issued a statement on Wednesday, saying he, along with 1.5 billion Muslims, as well as other truly civilized people in the world, denounce the barbarous plan.
He stated that such a plan will endanger all of humanity and will give rise to major disturbances.
"I warn… Christian leaders that if such a catastrophic and inhuman incident takes place in the United States, we will hold the U.S. government and President Obama accountable," he said.
The ayatollah said the minister who devised this plan should be arrested immediately and his church should be permanantly shut down.
He also stated that such a decision shows a deep hostility toward the highest humanitarian values and the values of the prophets.
The Quran is a book which praises Abrahamic religions and invites all people to worship God, he added.
Over one billion people regard the book as a book of religion, instruction, beliefs, worship, morality, and training, and every thoughtful human should respect its sanctity he said.
Blaspheming such a holy book is like blaspheming all holy books and all prophets, especially Abraham, Moses, and Jesus Christ, and Mary, who the Quran calls the best and purest woman of her time, he stated.