Iran
Attack on Iran will accelerate Israel's eventual end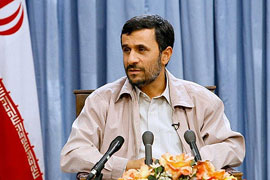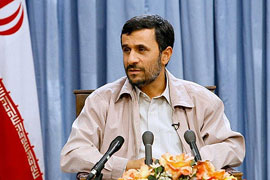 President Mahmoud Ahmadinejad referring to the Iranian nation's steadfastness against the enemies said any adventurism against the Islamic Republic will mean the end of their hegemony.
According to the Shiite News,'At a joint press conference on Sunday in Doha with Qatar's Emir, Sheikh Hamad bin Khalifa Aal-e Thani in response to a question on US-Zionist threats, he said Israel's weakness and US incapability in the regional and international arenas, means they cannot threaten the powerful and resistant Iranian nation.
The Iranian President pointing to the busting of the military might of the illegal Zionist entity vis-Ã -vis the resolve of the Palestinian and Lebanese peoples, made it clear that Israel, which is fast decaying because of internal issues, should know that any adventurism against Iran will accelerate its disappearance from the political geography of the region.
On US military weakness, he said the US, badly trapped in the Iraqi and Afghan quagmires, is not in a situation to confront Iran.
Dr. Ahmadinejad pointing to the deep brotherly relations between Iran and Qatar, saying the two sides share close views on various regional issues including the American occupied countries of Iraq and Afghanistan and the Zionist usurped land of Palestine.
For his part, Sheikh Hamad bin Khalifa Aal-e Thani, referred to the issues agreed during his talks with Dr. Ahmadinejad and was hopeful that the agreements would result in resolving of the regional problems in order to enable regional states to live in durable security and friendship.
He termed the Zionist siege of Gaza as the most important issue of Islamic world and noted that Iran and Turkey have played a significant role in helping the Palestinian people.
Iran only nation to set up justice-based system
President Mahmoud Ahmadinejad on Sunday called on peace-seekers around the world to coordinate efforts for establishing the justice-based order," saying a change in the UN structure is the first step in this regard.
According to the Shiite News,'IRNA quoted him as saying in a meeting with ambassadors of foreign countries in the Qatari capital, Doha: "We believe that this change will happen because it is a necessity."
He added: "The current order, which is the result of the policies of the victorious powers of World War I and World II, is based on vested interests, and therefore was not able to bring about durable peace and security to humanity over the past 60-odd years including the chronic question of Zionist-usurped Palestine. It is also clear that this outdated system is unable to settle the current problems in Iraq and Afghanistan."
The Iranian President stressed the importance of establishing the justice-based world order for bringing about real progress to human societies and ending the current catastrophic state.
He warned against plots to cause discord in the region, saying, "The enemies have sought to dominate the Persian Gulf region for decades because of its importance to the world."
According to Dr. Ahmadinejad, "the West's psychological war is actually aimed at finding markets for their weapons and for justifying their undesirable presence in the region. However, such plots are ineffective thanks to the vigilance of regional states."
Meanwhile, in a meeting with Iranian nationals in Qatar last night, he said the current world order serves the interests of capitalists through the massacre of people and plunder of their wealth, and Islamic Iran is the only nation that has been able to establish the justice-based order."
 
Back to top button