Iran
Iran's Leader Meets Family of Hezbollah Commander Martyred in Syria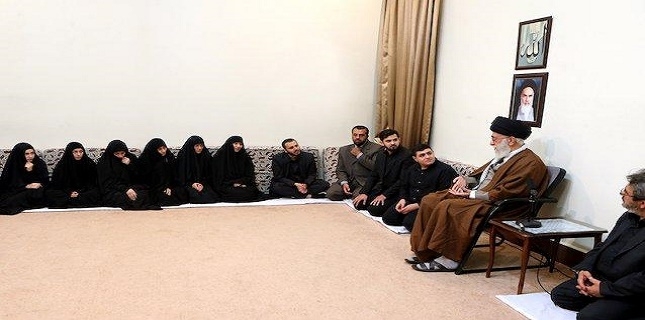 The family of Martyr Sayyed Mustafa Badreddin, military commander of Lebanon's Hezbollah, met with Ayatollah Ali Khamenei, the Leader of the Islamic Revolution on Wednesday afternoon, May 25.
During the meeting in Tehran, the Leader of the Revolution praised the courage and chivalry of the Martyred Badreddin. He said "I had heard a lot about the strong and powerful characteristics of this beloved martyr.I asked God to elevate his status in the Heavens and patience for the family. Your family is a family of martyrs; not only Martyr Badreddin's family, but also Martyr Emad Mughniya, his son and others. Your family is a symbol of martyrdom.
Lebanon has turned into an outstanding land thanks to Hezbollah and the elements of resistance. Truly, we know few places where there are so many believing and pure individuals. Although Lebanon is small in terms of geographical area, in terms of impression, it has an influence over the entire region and this has been achieved thanks to the blood of your martyrs. The blood of these martyrs is praise worthy."
On the sidelines of the meeting, the Leader of the Islamic Revolution presented his ring to Ali, Martyr Badreddin's son. Sayyed Mustafa Badreddin, the Hezbollah commander was martyred on 13th May 2016 in an attack by Takfiri terrorist groups in a center near the military airport of Damascus.