Iran
Father of Sunni martyr who fought ISIS met with Ayatollah Khamenei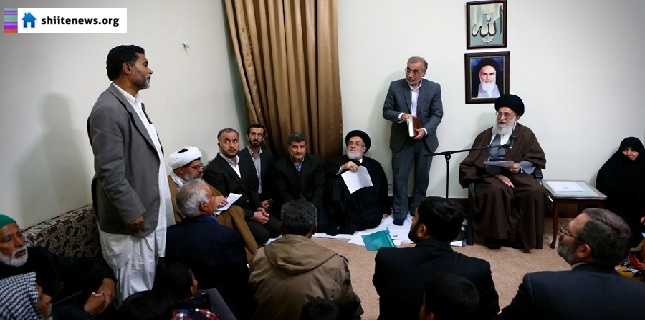 At a meeting with members of the Assembly of the Experts held a while ago, the Leader of the revolution pointed out to Sunni Iranians who accompany military advisors in Syria in fight against ISIS and related a memory of meeting with the family of a Sunni martyr, praising this family for their high spirit in expressing honor rather than sorrow over having lost their son as a martyr.
Khamenei.ir publishes pictures of the father of the Sunni martyr meeting with the Leader of the revolution on January 13, 2016. Martyr Omar Mollazehi, was a Sunni Iranian resident of Nikshar, Sistan-Baluchestan Province who was martyred in fight against takfiris.
Today we have on our side, Sunni brothers who accompany us in our fight against ISIS and get martyred. Some families of the martyred military advisors met with me among which there were a few Sunni families. The Sunni brothers send their young ones to fight ISIS in Syria, to defend the holy Shrine of the Progeny of the Prophet (peace be upon them) and when they visit me, rather than expressing sorrow, rather than expressing grief or grievance, they express the honor and pride they feel for the martyrdom of their sons.