Iran
Enemy seeking to undermine Iranians' beliefs: Leader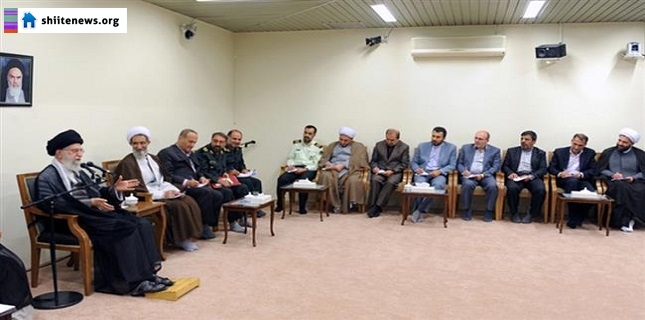 Leader of the Islamic Revolution Ayatollah Seyyed Ali Khamenei says the enemy is conspiring to undercut Iranians' political and religious beliefs.
"Among the schemes [orchestrated] by the enemy's political and cultural armies are to undermine religious and political beliefs and seek to draw in active and influential youth at different levels," said the Leader in a meeting with staff members of the Marytrs Congress of the southwestern Iranian province of Char-Mahal-Bakhtiari.
He made the remark while highlighting the enemy's plots and massive cultural, ideological and political inroads into the Islamic Revolution, saying the efforts being made by faithful individuals and committed authorities to counter such inroads are "useful and necessary."
Among key measures which could be adopted to foil enemy plots is to promote concepts such as "Jihad," "martyr and martyrdom" and "patience for the sake of God."
"Convincing the audience as well as using art and advertising tools" is a prelude to better promotion of these concepts, the Leader noted.
He urged intellectuals and artists to work in tandem and turn out "effective products," a task which, as the Leader said, should also involve authorities and the faithful public.