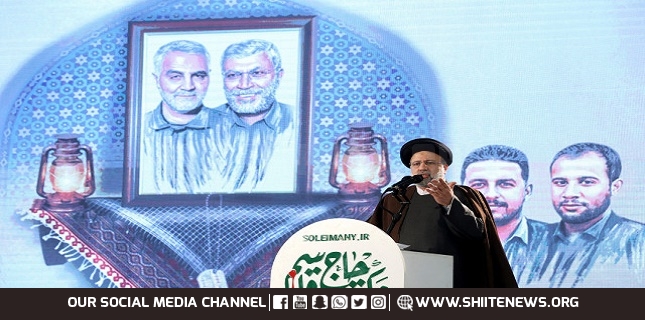 Two years on since the US's assassination of top Iranian military commander, Lieutenant General Qassem Soleimani made headlines, and Iranians still grieve his loss.
On the second anniversary of the incident, thousands gathered in Tehran's Grand Mausoleum to pay tribute to him.
Addressing the gathering, Iran's President Ebrahim Raeisi vowed to bring those behind the incident to justice.
General Soleimani was the commander of the Quds Force of the Islamic Revolution Guards Corps, which is in charge of conducting overseas operations.
He together with Commander of Iraq's Popular Mobilization Units, Abu-Mahdi al-Mohandis, was assassinated in January 2020 in a US air raid outside Baghdad Intl. Airport on a direct order from US president Donald Trump.
Soleimani is well-known for dismantling Daesh terrorists in Iraq in 2017.
He also spearheaded major operations in Syria that resulted in liberating key areas from Daesh.
This made him rise to fame in the region as the mastermind of the fight against terrorism.
Iran says it is seriously following up on its legal pursuit to prosecute those behind Soleimani's assassination.
Iran and Iraq have recently formed a joint investigation committee comprising judicial experts from both countries.
Based on the latest findings of the legal team, more than 120 people have been identified in connection with Soleimani's assassination, former US president Donald Trump tops the list.
These people say by assassinating General Soleimani, the US did a big favor to the terrorists and disrupted the regional fight against terrorism, something which put Washington on a confrontational course with regional countries and marked the beginning of its exit from the region.