Iran
New Iran foreign minister to attend Baghdad summit on easing regional tensions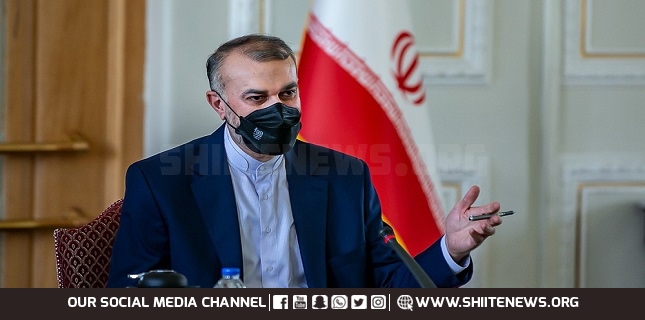 Iran's new Foreign Minister Hossein Amir-Abdollahian will attend a regional summit in the Iraqi capital Baghdad with the objective of easing tensions between neighboring countries, Foreign Ministry's spokesman said.
Saeed Khatibzadeh said Amir-Abdollahian will attend the Baghdad summit as the head of Iran's delegation.
Earlier this month, Iran's new President Ebrahim Raeisi was officially invited to attend the summit during a visit by Iraqi Foreign Minister Fuad Hussein to Tehran.
Baghdad has been hosting talks between regional heavyweights Tehran and Riyadh in recent months on mending ties severed in 2016.
Raeisi has voiced optimism about improving ties with regional countries and has made dialogue with neighbors one of his administration's priorities.
Last month, he said Iran believes that there is no obstacle to reopening embassies in Tehran and Riyadh.
"This policy has been announced before and I reiterate that there is no impediment to the [establishment of] relations with Saudi Arabia and all the countries in the region," Raeisi said on June 21 during his first press conference after his victory in the election.
Iraq has also invited Saudi Arabia, the UAE, Egypt, Jordan and Turkey to the summit, co-organized by France and expected to be held on Saturday.
"Even if we bring the foreign ministers together at one table, this could be considered a breakthrough to end the tensions between Iranians and the Persian Gulf Arabs," an official close to Iraqi Prime Minister Mustafa al-Kadhimi said, according to Reuters.
Another politician close to Kadhimi said Iraq had received "positive signals" from Tehran and the Persian Gulf states that they were ready for more direct discussions.
Late in April, Tehran welcomed "a change in Saudi Arabia's tone" towards the Islamic Republic, as observed in Saudi Crown Prince Mohammed bin Salman's earlier interview, during which he said he wanted to have a "good and distinguished relationship" with Iran, striking a different tone from Riyadh's usual demonization of Tehran.
Observers say Washington's proclaimed objective of rejoining the Iran nuclear deal, as a result of which it will have to remove the anti-Iran sanctions, as well as Riyadh's failed Yemen war are the major reasons behind Saudi Arabia's change of approach toward Iran.